Oregon to Shut Health Site to Join Obamacare Exchange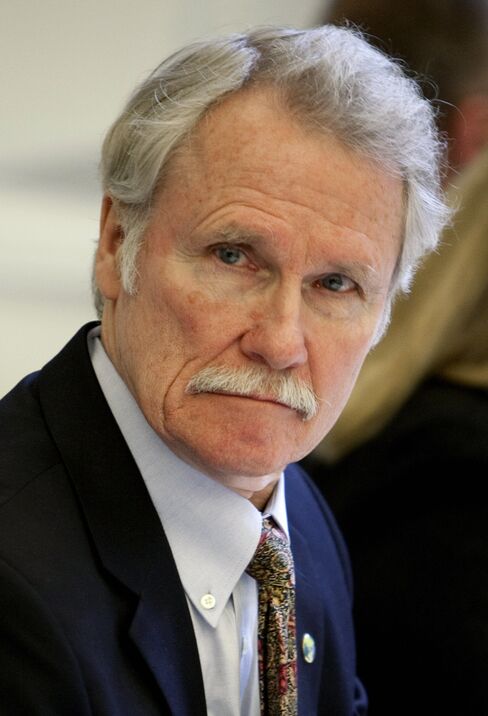 Oregon will shut down its troubled health insurance exchange, which federal taxpayers spent $303 million to build, becoming the first state to abandon its marketplace and shift its customers to the U.S. exchange.
Directors for the exchange, Cover Oregon, today accepted a recommendation from an advisory panel that the state join the federal Obamacare site, healthcare.gov, said Ariane Holm, a spokeswoman for the Oregon program. Cover Oregon's website never recovered from early technology flaws, forcing thousands of consumers to apply for health plans using paper applications.
Once viewed as a trailblazer for the Patient Protection and Affordable Care Act known as Obamacare, Oregon was one of the first states awarded U.S. grants to build an insurance exchange. Cover Oregon's failure has spurred blame-trading between the state government and the project's main contractor, Oracle Corp., the biggest maker of database software, and imperils the re-election of Governor John Kitzhaber, a Democrat.
"At some point you just have to say it's time to swallow the pill and figure out: what do we do to move on and improve the situation," Dawn Bonder, the chief executive officer of Health Republic Insurance, a startup selling plans on Cover Oregon, said in a phone interview. "Looking at all the options and the available funds and the timeline, there doesn't seem to be a lot of paths to go down at this point in time. It's sad."
Cost Alternatives
An advisory panel yesterday recommended the state abandon plans to fix its website or buy technology from another state with a functional marketplace, such as Connecticut. Joining the federal exchange will cost $4 million to $6 million, the panel said in a report, while fixing Cover Oregon's site may cost $78 million.
"The Cover Oregon Board of Directors voted today to utilize the federal technology as the engine for private health insurance plan enrollment through Cover Oregon," Holm, the spokeswoman, said in an e-mail. "This option presents the lowest risk to complete a functional online exchange in time for the next open enrollment period and comes in at the lowest cost."
Maryland, whose Health Benefit Exchange also suffered catastrophic computer errors, wants to spend about $45 million to purchase Connecticut's technology, built by Deloitte LLP.
"Oracle looks forward to providing any assistance the state needs in moving parts of Oregon's health-care exchange to the federal system if it ultimately decides to do so," Deborah Hellinger, a spokeswoman for Redwood City, California-based Oracle, said in a statement. "Oracle will continue to support the state in providing long-term solutions for Oregonians, and to assist with its ongoing health care modernization efforts."
Federal Assistance
The U.S. Centers for Medicare and Medicaid Services, which operates the federal exchange, "is committed to working closely with states to support their efforts in implementing a marketplace that works best for their consumers," Aaron Albright, a spokesman for the agency, said yesterday in an e-mail. "We are working with Oregon to ensure that all Oregonians have access to quality, affordable health coverage in 2015."
More than 8 million people signed up for private health plans across the U.S. during the initial enrollment season that ended last month. In Oregon, 45,119 customers enrolled as of April 10, Cover Oregon's board reported.
By comparison, neighboring Washington state, which also runs its own exchange and didn't encounter serious computer errors, signed up 147,000 people for private plans.
Before it's here, it's on the Bloomberg Terminal.
LEARN MORE