Obama Irks Allies in Judge Picks as Diversity Hits Record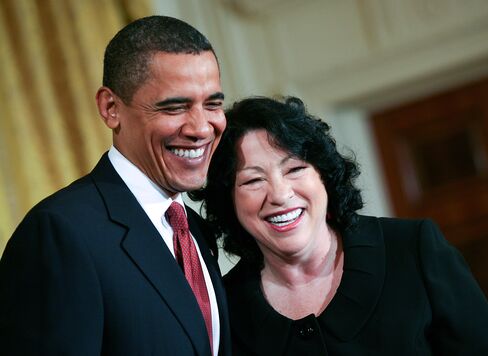 April 24 (Bloomberg) -- President Barack Obama has named more blacks, Hispanics, women and Asians as federal judges than any of his predecessors. Some of his allies still render a negative verdict: too middle of the road.
Senator Elizabeth Warren of Massachusetts laments that his judicial picks have failed to stem a "corporate capture" of the federal courts. Representative John Lewis is among civil rights advocates who rebelled against Obama nominees for district judgeships in Georgia. Abortion-rights activists have also joined that fight.
Some legal experts say Obama is doing a poor job of putting ideological allies on the bench compared with his Republican predecessors. And he may be running out of time: The procedural window opened by fellow Democrats to avoid Republican roadblocks to nominations in the Senate may close after this year's midterm elections if Obama's party loses control of the chamber.
"What's been lost is the opportunity to have greater voices in the judiciary who articulate and enforce a more progressive vision of constitutional law," said Geoffrey Stone, a former University of Chicago Law School dean who recruited Obama two decades ago as a faculty member.
That's likely to tilt the balance more toward incremental rather than sweeping rulings from Obama-appointed judges in areas such as same-sex marriage, gun regulation and challenges to voter-identification laws, Stone said.
Surpassing Bush
The criticism is flowing even as Obama, after a slow start in making judicial nominations, has surpassed Republican President George W. Bush in the number of federal judges confirmed at the same point in his presidency. As of today, the Senate has confirmed 44 Obama appeals court nominees and 189 district court nominees compared with 43 Bush appellate nominees and 187 district court nominees for the same period, according to the White House.
The administration has also broken new ground on judicial appointments of women, gays and ethnic minorities.
Forty-two percent of the federal judges confirmed during this administration have been women, compared with 22 percent during the Bush administration and 29 percent during the Clinton administration, the White House says. Racial and ethnic minorities account for 36 percent of confirmed judges compared with 19 percent during Bush's tenure and 25 percent during Clinton's. Eight Obama judges are openly gay, versus one Clinton appointee and none during the Bush years.
Both Obama Supreme Court appointees are women, one of whom is the first Hispanic to serve on the court, Sonia Sotomayor.
49% 'Liberal'
Still, critics argue that Obama hasn't been as forceful as Bush in backing nominees who become embroiled in political conflicts nor has he placed as much emphasis on ideology and youth.
Though assessments of court decisions are subjective, one academic study that classified 106,000 federal court rulings since 1932 as "liberal" or "conservative" found that Obama appointees have been less ideological than those of recent Republican presidents, though more so than Clinton appointees.
The study scored 49 percent of opinions by Obama judges as liberal, compared with a 44 percent average liberal score among Clinton appointees. Nominees of the past three Republican presidents showed greater ideological consistency, with each producing the same 64 percent conservative average, according to the analysis by professors at the University of Houston and the University of Massachusetts-Dartmouth.
Obama "really has not pushed the envelope with many nominees," said William Yeomans, a former chief counsel to the late Senator Edward Kennedy of Massachusetts and now a fellow in law and government at American University in Washington.
Countering Critics
White House spokesman Eric Schultz disputes the criticism, saying Obama has been constrained by Republican obstruction and in some cases resistance to controversial nominees from Democrats in Republican-leaning states.
While the Supreme Court gets most of the attention, appointments to lower courts exert considerable influence. Appeals courts shape the judicial dialogue, typically reviewing tens of thousands of cases a year and often determining final legal judgments, with the Supreme Court usually handling fewer than 100 cases a year.
With the oldest Supreme Court Justice, Ruth Bader Ginsburg, 81, resisting pressure from some liberal activists to retire, there are no signs of an imminent high court opening, leaving lower court nominations as Obama's best means to remold the bench.
The average age of appeals court judges named by Obama has been 52.5 at the age of nomination versus 49.6 for Bush appointees. Since federal judgeships are lifetime appointments, the age difference means Bush judges are likely to serve longer.
'Ideological Fervor'
Senate Judiciary Committee member Chris Coons, a Delaware Democrat, said the administration and Senate Democrats have "done the best they could" given "Republican obstruction."
The party's focus should be on "advancing legislation" and "highly qualified nominees" rather than "matching the Bush administration's ideological fervor," Coons said.
Obama nominees have made important recent rulings on same-sex marriage: Judge Robert Shelby invalidated Utah's ban on gay marriage in December and Judge Arenda Wright Allen threw out Virginia's ban in February. Judge Timothy Black ruled Ohio must recognize same-sex marriages performed out of state.
Obama doesn't think more ideological judges are necessarily the most able to influence the direction of the law, said White House Counsel Kathryn Ruemmler, who manages judicial selection.
The president places a high value on "having the power to build consensus, and part of that is being viewed by your peers and fellow judges as fair-minded and reasonable," said Ruemmler, who is leaving her post next month.
That's especially true for appeals courts, which decide cases through three-judge panels or through the deliberation of all judges on the regional appeals circuit, she said.
Open Criticism
Discontent among some Democrats with Obama's record has flared into the open since the Senate's November decision to end legislative blockades, known as filibusters, of nominees.
Warren, who excited party activists by pushing to rein in Wall Street abuses, criticized the president in February for drawing too heavily on former corporate lawyers and prosecutors to fill the bench. Eighty-five percent of Obama's nominees have been corporate attorneys, prosecutors or both, according to an analysis by the Alliance for Justice, a coalition of environmental, consumer, civil rights and women's groups.
"There is an intense fight going on right now about what our federal bench will look like," Warren said at a meeting of the alliance. "Will it be a neutral forum that faithfully interprets the law and dispenses fair and impartial justice? Or will we see corporate capture of the federal courts with the courts transformed into just one more rigged game?"
Civil rights activists and abortion rights groups, along with black members of Congress such as Lewis, a Georgia Democrat, protested nominees Obama made to fill U.S. district court vacancies in Georgia.
Compromise Nominees
One nominee, Michael Boggs, a state appellate judge, sponsored anti-abortion legislation as a Democratic legislator. The other, Mark Cohen, a former state Democratic official, defended Georgia's voter-ID law, which civil rights groups have criticized as an attempt to suppress minority voting.
The two judges were part of a compromise package the administration negotiated with Georgia's two Republican senators to get them to agree to remove objections to the nomination of Jill Pryor of Atlanta to a seat on a U.S. appellate court.
Republican activists, including evangelical Christians and anti-abortion advocates, are more motivated than Democrats by ideological judicial appointments, said Sheldon Goldman, author of "Picking Federal Judges: Lower Court Selection from Roosevelt through Reagan."
That's because they're seeking to overturn precedents on issues such as school prayer, gay marriage and affirmative action, said Goldman, a political science professor at the University of Massachusetts at Amherst.
To contact the reporter on this story: Mike Dorning in Washington at mdorning@bloomberg.net
To contact the editors responsible for this story: Steven Komarow at skomarow1@bloomberg.net Mark McQuillan