Lenovo Plans Dollar Bond Sale as China Costs Decline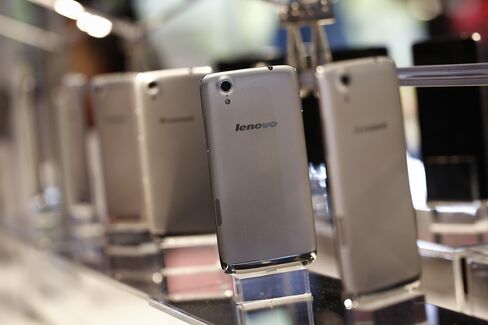 Lenovo Group Ltd., the Beijing-based computer maker, is planning a sale of dollar-denominated bonds as Chinese issuers pay the least in three months for U.S. currency debt.
Lenovo is scheduled to meet investors in Hong Kong tomorrow and in Singapore on April 28, a person with knowledge of the details said. An offering would raise funds for any acquisitions and for general corporate purposes, the company said in an exchange filing today. Times Property Holdings Ltd., a developer based in the southern Chinese city of Guangzhou, is marketing more of its 2019 bonds at about par, a separate person said.
Cnooc Ltd. raised $4 billion from a three-part sale yesterday, leading $7 billion of offerings by borrowers from Hong Kong and China this week, the most on record, data compiled by Bloomberg show. Chinese issuers are paying the least for dollar debt since Jan. 23 after the average yield premium dropped to 348.7 basis points yesterday, according to JPMorgan Chase & Co. indexes.
"Improved sentiment, as well as strong U.S. investor appetite for higher quality state-owned enterprises, is dragging all other Chinese names tighter," said Mark Reade, a Hong Kong-based desk analyst at Mizuho Securities Asia Ltd. "Ultimately we'll see further deals, although the supply we've had so far this week may take a few days to digest."
U.S. Demand
Cnooc sold three-year debentures at a spread of 85 basis points more than similar-maturity Treasuries, 10-year notes at 160 basis points more than government debt and 30-year bonds at a 150 basis-point spread, data compiled by Bloomberg show. Investors in the U.S. bought 74 percent of the three-year securities, 60 percent of the 10-year bonds and 42 percent of the 30-year debentures, a person familiar with the matter said.
Lenovo is working to get approval to buy Motorola Mobility from Google Inc. for $2.91 billion in cash and stock to boost its smartphones business. The company also agreed to buy International Business Machines Corp.'s low-end server unit for $2.3 billion to add corporate customers.
Times Property plans to sell more 12.625 percent bonds as soon as today, a person familiar with the matter said. The company issued $225 million of the securities last month, data compiled by Bloomberg show. The notes traded at 100.6 cents on the dollar yesterday.
The cost of insuring Asia-Pacific corporate and sovereign bonds from default rose today, according to traders of credit-default swaps.
Asian Risk
The Markit iTraxx Asia index of 40 investment-grade borrowers outside Japan added 1 basis point to 123 basis points as of 8:38 a.m. in Singapore, Australia & New Zealand Banking Group Ltd. prices show. The gauge has traded from 120 basis points to 153.5 basis points this year, according to data provider CMA.
The Markit iTraxx Australia index advanced 1 basis point to 98 basis points as of 10:39 a.m. in Sydney, according to ANZ. The benchmark is on course for its biggest one-day increase since April 11, according to CMA, which is owned by McGraw-Hill Cos. and compiles prices quoted by dealers in the privately negotiated market.
The Markit iTraxx Japan index rose 0.5 basis point to 84.3 as of 9:39 a.m. in Tokyo, Citigroup Inc. prices show. The measure is poised to climb 0.3 basis point this week, after declining 3 basis points last week, according to CMA.
Credit-default swap indexes are benchmarks for protecting bonds against default and traders use them to speculate on credit quality. A drop signals improving perceptions of creditworthiness, while an increase suggests the opposite.
The swap contracts pay the buyer face value in exchange for the underlying securities if a borrower fails to meet its debt agreements.