Chef Jason Atherton Opens City Restaurant With Steak and Chips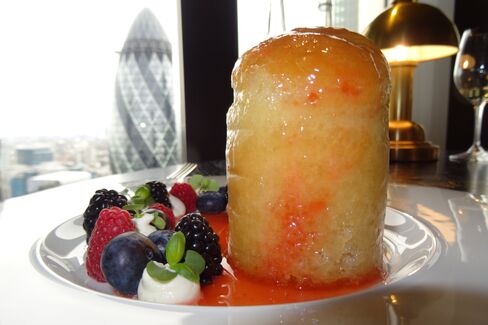 Jason Atherton plans to open his first restaurant in the City of London financial district on May 1 and says he is keen to avoid the tag of celebrity chef even as his international dining empire rapidly expands.
"I was standing outside this morning and a woman came up and said, 'Is this Jason Atherton's new restaurant?'" Atherton said yesterday in an interview at the new City Social, in Tower 42. "That's how I like it: It's about the restaurants, not me."
City Social will offer dishes such as Cumbrian beef tartare with sour-dough crouton, goat's curd and truffle dressing; fillet steak with duck fat chips and salad -- provisionally priced at 32 pounds ($54); and rum baba with English summer berries and strawberry sorbet (10 pounds).
Atherton, 42, has added restaurants in Shanghai, Hong Kong and Singapore, with plans for Dubai and Australia. In London, he owns Berners Tavern, Pollen Street Social, Social Eating House and Little Social. He also plans to open the Typing Room, on the site of the former Viajante in Bethnal Green, next month.
The cocktail list at City Social features In-Cider Trading, served in an attache case.
(Richard Vines is the chief food critic for Bloomberg. He is U.K. and Ireland chairman of the World's 50 Best Restaurants awards. Opinions expressed are his own. Follow him on Twitter @richardvines)