Bank of China Overseas Lending Helps Profit Surpass Est.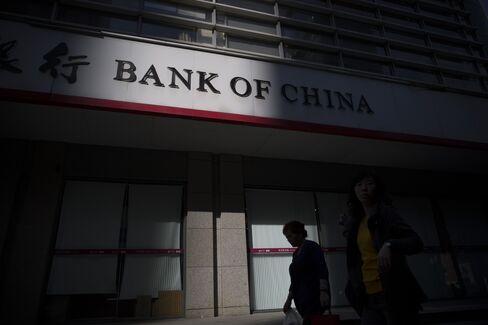 Bank of China Ltd. expanded lending margins and extended more overseas credit in the first quarter, helping it offset a rise in default charges and report higher-than-estimated profit.
Net income rose 14 percent to 45.4 billion yuan ($7.3 billion) in the three months ended March 31 from 39.8 billion yuan a year earlier, the Beijing-based bank said in a statement to Hong Kong's stock exchange yesterday. That exceeded the 44 billion-yuan median of seven analysts' estimates compiled by Bloomberg News.
Bank of China, the nation's fourth-largest lender by market value, boosted overseas loans in the past year, sheltering it from weaker economic growth and lending curbs at home. The slowdown in China stoked concerns that bad debts will rise and dragged valuations of the largest banks to record lows.
"The increased convertibility of the yuan will definitely be of great help to Bank of China's lending business overseas," Richard Cao, a Shenzhen-based analyst at Guotai Junan Securities Co., said by phone. "Chinese banks have also quickened the pace of overseas expansion by setting up more branches, and the world economy is recovering."
Shares of Bank of China, the first among the country's biggest banks to report quarterly earnings, dropped 0.6 percent HK$3.40 in Hong Kong as of 10:39 a.m. local time. The stock, which lost 5 percent this year, trades at 4.7 times estimated profit, less than half the benchmark Hang Seng Index's 10.3 times, data compiled by Bloomberg show.
Wider Margins
Bank of China's net interest income rose 14 percent to 76.5 billion yuan from a year earlier, while fee income gained 17 percent to 29 billion yuan. Its net interest margin, a measure of lending profitability, widened to 2.29 percent in the first quarter from 2.22 percent a year earlier.
The lender had 8.2 trillion yuan of loans outstanding as of March 31, an increase of 7 percent from the end of last year. That compared with a 6.7 percent gain during the same period in 2013. Less than 40 percent of loans advanced in the first quarter were denominated in yuan to domestic borrowers, according to figures in yesterday's statement.
Overseas lending has helped shelter the bank from government efforts to rein in a credit boom that fueled overcapacity in some industries and inflated borrowings by local governments. Bank of China President Chen Siqing said last month he's optimistic about asset quality and profit growth in 2014, especially outside the country.
Credit Woes
"BOC's results suggest that we will see double-digit earnings growth across the sector, despite mounting credit woes," Jim Antos, a Hong Kong-based analyst at Mizuho Securities Asia Ltd., wrote in a note today. "The largest mainland banks have substantial financial resources to withstand the current credit meltdown."
Agricultural Bank of China Ltd., the nation's third-biggest lender, may say after Hong Kong's stock market closes today that its first-quarter net income gained almost 11 percent to 52.4 billion yuan, the median of eight analyst estimates compiled by Bloomberg News.
Bank of China set aside 15.1 billion yuan against impaired assets in the first quarter, 83 percent more than a year earlier. The charges were driven mainly by domestic loans, Bank of China said.
"Regulators have recently asked banks to take measures to control nonperforming loans by raising provisions, impairment losses on assets and write-offs of bad loans," said Guotai Junan's Cao, who has an accumulate rating on Bank of China. "The level of impairment losses was already quite high last year and the trend will continue."
Sour Assets
Bank of China's soured loans rose to 80.3 billion yuan as of March 31 from 73.3 billion yuan at the end of last year, according to yesterday's statement. The ratio of bad debt to total credit increased to 0.98 percent during the period from 0.96 percent in December.
Bad debts are increasing in an economy that expanded 7.4 percent in the first quarter, the slowest pace in six quarters. The nation's broadest measure of new credit slumped 19 percent in March from a year earlier, underscoring risks of a deeper slowdown.
China's expansion may slow to 7.5 percent this year from 2013's 7.7 percent, according to International Monetary Fund data released two weeks ago. By contrast, global growth is forecast to accelerate to 3.6 percent from 3 percent last year, the data show.
Capital Ratios
Bank of China's common equity Tier 1 ratio fell to 9.58 percent as of March 31 from 9.69 percent at the end of last year. That compares with the 8.5 percent level the government requires by the end of 2018. The lender said earlier this month it won approval to adopt a new method for computing its capital ratios in line with Basel III guidelines for banks' liquidity and risk buffers.
Slowing profit growth at China's biggest lenders curbed their ability to retain earnings to meet capital requirements, forcing them to raise funds by selling shares and bonds. Bank of China, Industrial & Commercial Bank of China Ltd. and Agricultural Bank may sell a combined 260 billion yuan of preferred shares, Caixin reported April 14.
— With assistance by Jun Luo
Before it's here, it's on the Bloomberg Terminal.
LEARN MORE