Vienna Banks Bemoan Russia Sanctions Testing Cold War Neutrality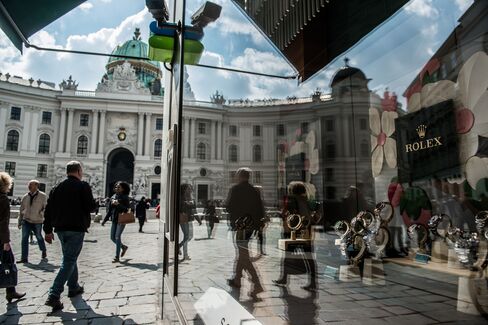 During the height of the Cold War, Austria's neutrality freed executives to ply both sides of the Iron Curtain for deals, making Vienna a crossroads for east-west trade and political intrigue.
The city's private bankers and real estate agents say they are now on the front line of escalating tension over the future of Ukraine after the European Union imposed sanctions on Russia and threatened to tighten them further. Austrian Finance Minister Michael Spindelegger said yesterday that the economic effect on his country of new measures "won't be negligible."
"It has become a challenge," said Klaus Requat, who runs investment banking at Meinl Bank AG based in the Austrian capital. "The Ukraine crisis is especially aggravating because it came at a time when investors began to notice positive effects in the region. Now, uncertainty rules again."
Business with eastern neighbors flourished after the Soviet Union disintegrated in 1991, when Viennese lenders opened up in Moscow and Kiev and wealthy Russians and Ukrainians sought havens in the city's banks and property market. With 38 billion euros ($52 billion) of "exposure" to Russia, Austrian bankers have the most at stake, Fitch Ratings said on April 1.
EU and Russian tensions are already rippling among Vienna's private banks, said Matthias Albert, a board member at Bank Gutmann, which caters to wealthy investors.
Capital Controls
"Whenever there's a political crisis, there are capital movements because one never knows when capital controls will be imposed," said Albert. "People are less predictable in times of uncertainty."
So far, the financial cost to Austrian bankers and companies isn't clear.
At Meinl Bank, Ukrainian and Russian customers are demanding "significantly shorter" investment maturities and "higher liquidity," Chief Executive Officer Peter Weinzierl said in an interview this month, adding that some real estate and energy products are becoming harder to sell.
"We have to realize we would be hit as a country that trades with Russia, where Austrian companies are active as well," Spindelegger said after the weekly government meeting in Vienna yesterday. Chancellor Werner Faymann warned that the conflict shouldn't be "fueled" by further sanctions, putting him at odds with Angela Merkel across the German border.
Neutral Ground
Sanctions have roiled Russian markets after targeting individuals close to President Vladimir Putin. The U.S. told asset managers last week that additional punishments were being prepared that may target the energy and banking industries.
Austria's neutral standing took a blow in February when it said it would freeze the accounts of 18 Ukrainian citizens at the request of the government in Kiev. Two weeks later, police used a U.S. warrant to jail Dmitry Firtash, the Ukrainian billionaire who made his fortune importing Russian natural gas.
"Austria established an extremely successful economic equilibrium through its Cold War neutrality," Meinl Bank CEO Weinzierl said. "From the 1970s, Austria's foreign policy standing was completely out of line with its actual importance, but for the better."
The post-World War II racketeering of Vienna as portrayed by Orson Welles in The Third Man quickly gave way to Cold War espionage, and yet many business links to Russia and eastern Europe that were severed elsewhere were left intact in Austria.
Tito's Beaches
OMV AG began importing Soviet natural gas in 1968. Raiffeisen Zentralbank AG entered the Hungarian market when barbed wire still lined the border. Austrian tourists vacationed on General Josip Tito's Yugoslavian beaches before Croatia's coastline attracted international investors.
Further escalation risks undercutting Austrian relations with both sides, said Siegfried Beer, director of the Austrian Center for Intelligence, Propaganda and Security Studies.
"The importance of this little country in the center of Europe was built on its neutrality," Beer said in an interview. "During the Cold War, neutrality made us attractive to both sides. Intelligence agents loved being assigned to Austria."
The country of 8.4 million remains a battleground for the world's intelligence agencies, according to the Austrian Counterterrorism Office's annual report. Even as neutrality aids its economy, it has allowed spies to populate its embassies, airlines and press agencies, the office said.
Flourishing Ties
Ties between Russia and Austria flourished, even as the Alpine country became more entwined in EU expansion. Austria's Raiffeisen Bank International AG and UniCredit Bank Austria AG count among the biggest foreign banks in Russia. OAO Sberbank, Russia's biggest lender, maintains its international headquarters in Vienna.
"The tracks for business were there, but the trains that run on them only gained momentum after the Cold War ended," said Franz Fiedler, the former head of Austria's auditing court and a member of Transparency International.
Vienna was named the world's most livable city by Mercer Consulting for a fifth time in a row in February, leading Zurich and Auckland. The award underscored the allure for property investors, where Russians and Ukrainians were on the forefront of pushing prices to as much as 30,000 euros per square meter, according to German brokerage Engel & Voelkers.
Austria's Central Bank warned in January that Vienna's residential property market was 21 percent overvalued after prices almost doubled in the last decade.
Weaker Ruble
Maintaining ties with rich foreigners is crucial to keep the market afloat, said Richard Buxbaum, head of the residential department at brokerage Otto Immobilien.
"Sufficient international demand will be important for the top end," said Buxbaum. Russia's ruble, which has weakened about 9 percent against the euro this year, is already causing hesitation among Russian investors, he said.
Austria's government took steps to reassure investors its neutrality isn't in danger. Foreign Minister Sebastian Kurz underlined on March 31 the importance of Vienna as home to international organizations like the United Nations and Organization for Security and Cooperation in Europe.
"The positioning of our country is a big advantage," Kurz said at press briefing where he outlined plans to encourage more organizations to establish their headquarters in Vienna.
To maintain that advantage, Kurz and Austria will need to tread carefully between the needs and desires of Europe and Russia, according to Beer.
"He's trying to play both sides," said Beer at the Center for Intelligence, Propaganda and Security Studies. "Neutrality needs to be constantly redefined."
Before it's here, it's on the Bloomberg Terminal.
LEARN MORE