A Motorhome Takes Manhattan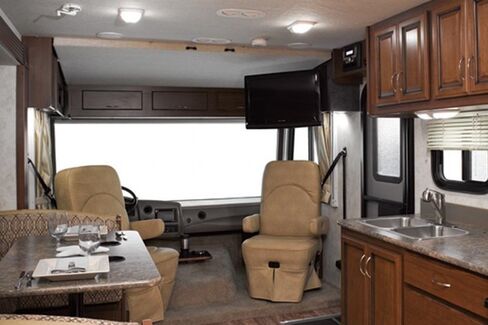 The typical New York reaction to a state-of-the-art, 30-foot house on wheels: "You're gumming up traffic."
The observation—delivered through a driver's open window—was valid, and the feedback was instructive. In fact, indigenous observations were part of the idea when Bloomberg Businessweek arranged to help deliver the monstrous Fleetwood Storm to an exposition in midtown Manhattan, with me at the wheel.
With roughly 9 million recreational vehicles in the U.S., the odds of seeing one in urban traffic are better than ever. And thanks to a burgeoning economy and a tide of cheap financing, the RV industry is poised for its best year of sales in nearly a decade. The Recreational Vehicle Industry Association expects sales to grow by about 6 percent this year, with about 340,000 new vehicles rolling out of dealerships.
Companies such as Fleetwood, Thor Industries , and Winnebago have been cranking up production and hiring workers. Even Warren Buffet's Berkshire Hathaway is enjoying the spoils via its ownership of Forest River, one of the bigger players in the market.
The conditions for our test-drive were less than perfect, with spring showers scattered through a midweek morning rush hour. But once we had the machine plastered with GoPro cameras and rolling out, the city seemed more accepting. Drivers generally gave the RV a wide berth and even went to great lengths to accommodate lane changes, applying the courtesy that soft-hearted New Yorkers accord to tourists dawdling a bit as they take in the sights. Taxi cabs zipped around us like pilot fish darting for shark scraps.
Pedestrians, meanwhile, paid scant attention, giving the hulking coach as much of a glance as a sidewalk celebrity or a raggedy haired hobo on a rant might draw.
As for performance, the Storm was admirably smooth and—to put it bluntly—slow. Today's base model Ford Fusion is 3,400 pounds scooted along by a 2.5 liter engine; the Storm's power plant spans 6.8 liters, but the rig weighs 18,000 pounds. In lieu of doing the math, let's just say I didn't worry much about speeding tickets. The RV rumbled through midtown Manhattan like a subway car going local, exhibiting a similar lurch and sway, although it was burning a gallon of gas every eight miles or so.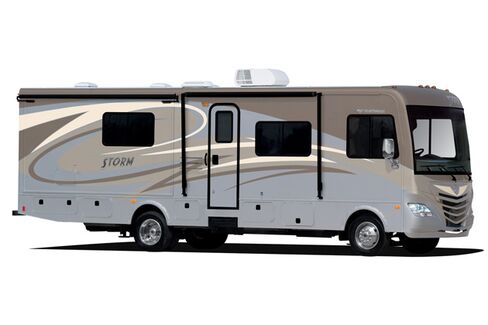 At $105,000, the machine isn't particularly elegant. It lacks the fit and finish of a luxury car, though it features such high-end comforts of home as an propane stove, three flat-screened TVs, and a surprisingly roomy shower that's suffused with natural light.
The most attractive feature, in my opinion, was the giant front windshield with a vista of glass bigger than most vehicles offer on the road today. I could see the allure of taking in the mountains of Yosemite or the fall foliage of New England through that flat screen. It certainly did justice to the canyons of Manhattan.
Before it's here, it's on the Bloomberg Terminal.
LEARN MORE