Slim's Austria Pact Triggers $2 Billion Bid for Control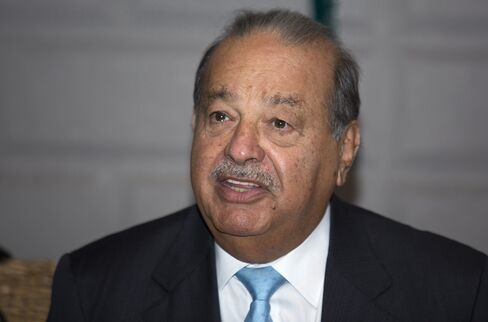 April 24 (Bloomberg) -- America Movil SAB is bidding as much as $1.96 billion to buy out Telekom Austria AG's minority investors, seeking to cement control of the European phone carrier after striking a shareholder pact with the government.
The deal with state holding company OeIAG, signed yesterday, gives the partners a majority stake together in Telekom Austria. America Movil will offer 7.15 euros ($9.88) a share for the rest of the company -- a 7.5 percent premium over yesterday's closing price of 6.65 euros.
The accord is the culmination of a two-year quest by America Movil, controlled by billionaire Carlos Slim, to establish a beachhead in Europe to expand beyond Latin America. The Mexico City-based company said it will vote for and contribute to a 1 billion-euro capital increase by Telekom Austria to invest in the eight countries where it currently operates -- and possibly others in central and eastern Europe.
"This agreement provides the basis for future growth, continued innovation, and solid investment in Telekom Austria," America Movil Chief Executive Officer Daniel Hajj said yesterday in a statement. "It will also contribute to better position Telekom Austria as a more relevant player in the European telecommunication markets and to be in a position to benefit from growth opportunities in the region."
Under the 10-year agreement, OeIAG will keep a blocking minority of 25 percent plus one share and will nominate Telekom Austria's chairman and CEO, the state holding company said in an e-mailed statement. Austria currently owns 28.4 percent of Vienna-based Telekom Austria, while America Movil holds 26.8 percent, according to data compiled by Bloomberg.
Telekom Rises
Telekom Austria jumped 6.3 percent to 7.07 euros at the close in Vienna, the biggest single-day increase since Jan. 7. America Movil rose 0.4 percent to 12.95 pesos in Mexico City.
"Geographic diversification is healthy for America Movil," Carlos de Legarreta, a telecommunications analyst at Corporativo GBM SAB, said in a phone interview from Mexico City. "It exposes it to different markets and dynamics, away from regulation and increased competition in Mexico."
The accord gives Slim, 74, a victory to celebrate after he failed to persuade Dutch phone company Royal KPN NV to accept a takeover offer of as much as $9.7 billion last year. Now he must convince America Movil shareholders of the wisdom of investing in Europe. America Movil's stock has fallen 31 percent since the company first disclosed a stake in KPN in May 2012.
Slim built a telecommunications empire in Latin America by offering cheap prepaid phone plans. The market in Europe is much different, said Julio Zetina, an analyst at Vector Casa de Bolsa SA.
European Drivers
Europe has "very developed markets, particularly in telecoms, with completely different drivers than Latin America's, not to mention affordability levels," Zetina said. "America Movil's strengths are not as evident there."
The Telekom Austria buyout offer can be easily financed by America Movil, Zetina said. The company, which has about $3.7 billion in cash, plans to fund the offer with credit lines, Chief Financial Officer Carlos Garcia-Moreno said in a news conference in Vienna today.
"America Movil's offer is very generous," Berenberg Bank analyst Usman Ghazi said in a note to clients. "Some of the largest central and eastern European markets Telekom Austria operates in are subject to some combination of recession, hyper-inflation and foreign exchange risks, and its domestic Austrian business generates an operating free cash flow margin that is half that of the sector."
Meeting Boycott
Slim's company and OeIAG overcame a last-minute hurdle that threatened to block the deal. Union representatives boycotted OeIAG's supervisory board meeting in Vienna yesterday, leaving it without a quorum for 12 hours, people familiar with the situation said.
Peter Mitterbauer, OeIAG's supervisory board chairman, saved the deal by taking a plane from Israel to Vienna yesterday to give the board the quorum it needed to approve the agreement, said people with knowledge of the matter, who asked not to be identified because the process was private. Mitterbauer's assistant declined to comment.
The five labor representatives on OeIAG's 14-member supervisory board stayed away from the meeting because they considered Austrian interests to be neglected in the agreement, said Helmut Koestinger, one of the union members.
Guarantees Wanted
"We have no guarantees, especially as far as jobs and investments in the Austrian broadband infrastructure are concerned," Koestinger said via phone. "We don't know if investments are only going to be taken abroad."
If OeIAG and America Movil had failed to agree on the contract yesterday, they wouldn't have been allowed to do so for another year without regulatory permission, since a 40-day period after the first announcement of the talks was running out.
As a controlling shareholder group, America Movil and OeIAG have to offer to buy the shares of minority shareholders under Austrian law. The price America Movil will offer exceeds the legal minimum, the average share price of the past six months, which was 6.46 euros as of yesterday, according to data compiled by Bloomberg.
America Movil in 2012 bought a 21 percent stake in Telekom Austria from investor Ronny Pecik, who's now the first deputy chairman. Pecik told the government in January that because of falling profits and mounting debt, Telekom Austria needs an outside investor, Profil magazine reported last week.
KPN Stake
While the company still owns shares of The Hague-based KPN, it reduced its stake last week to 24.83 percent, the second cut in the past two months, according to data from Dutch financial markets regulator AFM. It had reported a 27.1 percent stake in its annual report earlier this year. America Movil plans to keep two board seats at KPN, Garcia-Moreno said today. That will require its stake to stay above 20 percent.
Garcia-Moreno was in Vienna yesterday to sign the agreement with the Austrian government. The deal shows Slim is trying to avoid the missteps he made with KPN, whose board viewed his offer as hostile, said Borja Mijangos, an analyst at Madrid's Interdin Bolsa.
"It seems like America Movil has learned its lesson," Mijangos said. "This was a much more friendly approach."
To contact the reporters on this story: Alexander Weber in Vienna at aweber45@bloomberg.net; Patricia Laya in Mexico City at playa2@bloomberg.net
To contact the editors responsible for this story: Mariajose Vera at mvera1@bloomberg.net; Sarah Rabil at srabil@bloomberg.net Mark Beech, Robert Valpuesta