Samsung Challenger Seeks to Double Share to 30%: Corporate India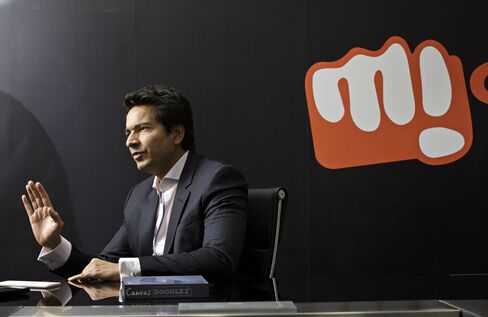 April 24 (Bloomberg) -- Micromax Informatics Ltd. is seeking to close the gap between Samsung Electronics Co., India's biggest smartphone seller, by making cheaper devices with bigger screens.
The Indian phone maker, which uses Hollywood star Hugh Jackman to promote its brand, aims to almost double market share this fiscal year to 30 percent, Co-Founder Rahul Sharma, 37, said in an interview at his office in Gurgaon near New Delhi. It will boost phone output at its main domestic factory by fivefold to 1 million units by March 2015, he said.
Micromax, which this week introduced a new 6-inch screen device, has climbed to the No. 2 spot in the world's biggest mobile phone market after China by offering phones cheaper than comparable models of rivals. The surge in Micromax's market share to as high as 21 percent from 8 percent in less than a year may prompt Samsung and other companies to introduce lower-priced devices and lure the Indian company's customers.
The phone maker's target "is a bit too optimistic," said Katyayan Gupta, a New Delhi-based analyst at Forrester Research Inc. "Micromax is being taken seriously now by Samsung, Apple Inc. and other manufacturers, and this is why it will face stiffer competition from these established brands in its primary domain of low-cost handsets."
Smartphone sales in India almost tripled last year to 44 million units as users migrated from devices with regular features as price gaps narrowed, according to market-research firm IDC. About 20 percent of the smartphones sold in the quarter ended December were devices with 5 inch-6.99 inch screens.
Doodle Phones
Micromax on April 22 introduced its latest Canvas Doodle3 phone that offers a 6-inch screen, a magnetic flip-cover, a 1.3GHz dual-core MediaTek processor, the Android 4.2.2 Jelly Bean operating system, a 5 megapixel camera, and a six-month movie subscription all for 8,500 rupees ($139).
"People are looking for bigger screens," Sharma, who is also the interim chief executive officer, said on April 22. "There are 6-inch products, but they are for 35,000 rupees. Who can afford that in India? At 35,000 rupees you can buy a motorbike."
The Doodle3 will compete with phones including the Samsung Galaxy Mega 5.8, which was released in 2013.
The Galaxy Mega 5.8 has a 5.8-inch screen, the Android v4.2.2 Jelly Bean operating system, a dual-core 1.4 GHz processor, an 8 megapixel primary camera and costs 26,420 rupees, according to the company's website.
Language Feature
Purnima Sahni Mohanty, Samsung's spokeswoman in India, declined to comment on competition.
Next up for Micromax will be a phone that will offer 22 Indian language options.
That may help win rural mobile phone users. The pace of addition of subscribers in villages in February was faster than in cities for the fifth consecutive month, according to data from the Telecom Regulatory Authority of India.
Micromax is counting on innovations, targeting specific consumer requirements and understanding usage patterns to win customers. It offers models that are compatible with second-generation networks because some users may not subscribe to the more expensive 3G service.
"If a user can't afford 3G, there's no point in loading a handset," said Sharma.
About 80 percent of the market is for devices priced between 2,000 rupees and 10,000 rupees, Sharma said.
Upper End
Indian carriers don't subsidize the cost of the phone, so consumers pay for the device upfront.
The company has also expanded into more expensive phones. Last month, it introduced Canvas Knight A350 that features a 5-inch display, 16 megapixel rear camera, 2GB random access memory priced at 19,999 rupees, its most expensive device. Micromax offered the product exclusively on its website and sold about 40,000 units within a week, said Sharma.
That's a leaf out of Xiaomi Corp.'s book. The four-year-old smartphone maker that outsells Apple in China keeps costs down by selling directly to consumers online. Lei Jun, Xiaomi's founder and chief executive officer said in Beijing yesterday that it will start selling in 10 more countries, including India, this year.
Micromax designs its phones and sends specifications to manufacturers in China. It's counting on innovations to fend off competition from Chinese brands.
"Micromax started as a software company. What we understand is R&D," said Sharma. "That's why Micromax is where it is."
Sharma expects almost all of the innovation in phones to be focused on software.
Revenue Doubles
The closely held phone maker estimates revenue almost doubled to 60 billion rupees in the fiscal year that ended March 31. Micromax may "explore" an initial public offering when the "market is favorable," Sharma said without providing detail.
The phone maker scrapped plans for an IPO in 2011.
Micromax's factory in the northern Indian state of Uttarakhand produces about 200,000 tablets each quarter and assembling its simpler phone models.
The output will increase to 1 million phones by end of this fiscal year from 200,000 units, Sharma said. It plans to assemble the Doodle3 and some new models.
"Being an Indian company we wanted to have a product that is designed in India and made in India," said Sharma. "And once you become big, you need to have control of more and more things."
To contact the reporter on this story: Bianca Vázquez Toness in New Delhi at btoness@bloomberg.net
To contact the editors responsible for this story: Michael Tighe at mtighe4@bloomberg.net Subramaniam Sharma