Portugal Bond Gain Pushes Yield to 8-Year Low After Debt Auction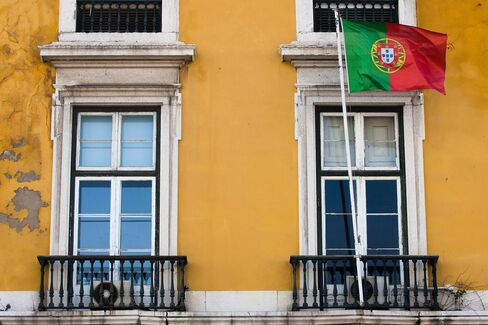 Portugal's government bonds rose, with 10-year yields falling to the lowest since 2006, after the nation held its first auction since a bailout in 2011 as its European Union-led aid program draws to a close.
The country sold 750 million euros ($1.04 billion) of 10-year securities at an average yield of 3.575 percent, compared with the record 18.29 percent at the height of the debt crisis in January 2012. Prime Minister Pedro Passos Coelho said "it was a good result which gives us confidence in the future." Italian and Spanish 10-year bonds advanced after euro-area services and manufacturing output expanded faster in April than economists forecast.
"The auction results were good to say the least," said Michael Michaelides, a rates strategist at Royal Bank of Scotland Group Plc in London. "The yield was very low, which is an indication of how good the sentiment in the periphery is." Portugal's 10-year yield will fall to 3.50 percent by the end of June at the latest, Michaelides forecast.
Europe's periphery nations are returning to international bond markets after being frozen out during the region's debt crisis on concern they'd be unable to fund their deficits. Portugal is seeking to regain full market access with the end of its 78 billion-euro rescue program from the EU and International Monetary Fund approaching on May 17. Ireland resumed bond auctions in March, four months after ending its rescue program and Greece resumed debt sales through banks this month.
Bailout Request
After requesting a bailout in April 2011, Portugal stopped selling bonds until January 2013, although it continued holding bill auctions. The government has been relying on banks to sell bonds, rather than selling the securities through auctions. European nations frequently hire banks when they offer new securities to boost demand. Today's auction attracted bids for 3.47 times the amount sold.
Portugal's 10-year yield fell five basis points, or 0.05 percentage point, to 3.65 percent at 4:55 p.m. in London after dropping to 3.62 percent, the least since February 2006. The 5.65 percent bond due in February 2024 rose 0.415, or 4.15 euros per 1,000-euro face amount, to 116.195. Portugal pays interest of about 3 percent on its bailout loans.
Greece sold 3 billion euros of five-year notes through banks on April 10 at a yield of 4.95 percent, its first sale since March 2010. The nation received orders exceeding 20 billion euros, enabling it to raise more than the 2.5 billion euros it initially sought.
Recovery Signs
Portugal has raised 6.25 billion euros selling bonds through banks this year as signs of economic recovery spurred a rally in Europe's higher-yielding fixed-income assets. The debt agency sold 3 billion euros of 10-year bonds through banks on Feb. 11 to yield 5.112 percent. The agency said on April 3 it plans to hold one or two auctions this quarter.
The country's previous bond auction was held on April 1, 2011, five days before asking for its financial rescue. It last held an auction of 10-year bonds on Jan. 12, 2011, selling the securities at an average yield of 6.716 percent.
Portugal, which is rated below investment grade by Standard & Poor's, Fitch Ratings and Moody's Investors Service, plans gross bond issuance of between 11 billion euros and 13 billion euros this year and has already started to obtain funding for 2015. The debt agency said in a presentation on April 2 that Portugal ended 2013 with what it calls a treasury cash position of 15.3 billion euros.
Spread Narrows
Germany's 10-year bund yield was little changed at 1.52 percent after rising to 1.55 percent yesterday, the highest since April 10. The extra yield investors demand to hold Portuguese 10-year bonds over their German peers shrank three basis points to 2.13 percentage points after contracting to 2.09 percentage points, the narrowest since June 2010.
London-based Markit Economics Ltd. said today its composite index based on a survey of purchasing managers in euro-region services and manufacturing industries rose to 54 in April, the highest in almost three years from 53.1 in March. A reading above 50 indicates expansion.
"Portugal is reacting to markedly improved market conditions," said Richard McGuire, a fixed-income strategist at Rabobank International in London. "It is indicative of Portugal dipping its toe in the water with the hope that in being able to take advantage of market conditions, conditions will improve further."
Spread Target
Rabobank recommends investors buy 10-year Portuguese bonds versus German securities with a target for the yield spread to narrow to 200 basis points, McGuire said.
Spain's 10-year yield dropped two basis points to 3.05 percent after falling to 3.04 percent, the lowest since September 2005. The rate on similar-maturity Italian debt declined one basis point to 3.09 percent.
Spain is scheduled to sell three-, five- and 10-year securities tomorrow. The Madrid-based Treasury last sold bonds maturing in 2024 on April 3 at an average yield of 3.291 percent, the lowest since September 2005.
Italy plans to auction as much as 3.5 billion euros of zero-coupon notes due in 2016 tomorrow, as well as a combined 3 billion euros of inflation-linked debt due in 2024 and 2026.
Portuguese bonds returned 14 percent this year through yesterday, the best performer among euro-area sovereign debt after Greek securities, which earned 30 percent, according to Bloomberg World Bond Indexes. Italy's gained 6.6 percent, Spain's 7 percent and Germany's 2.8 percent.
Before it's here, it's on the Bloomberg Terminal.
LEARN MORE