Phelps Says Competition Drew Him Back to Swimming; Unsure on Rio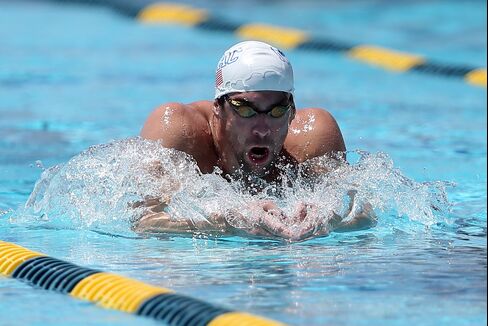 Michael Phelps, who said he's returning to competitive swimming because he missed the sport, doesn't know yet whether he'll participate in the 2016 Rio de Janeiro Summer Olympics.
Phelps, 28, will swim in the Arena Grand Prix Series, starting today in Mesa, Arizona, and running through April 26. He retired after the 2012 London Games, where he won six medals to push his career total to a record 22, including 18 golds.
"I just missed being back in the water," Phelps said yesterday at a news conference alongside coach Bob Bowman. "It has been fun. We'll see what happens here. Who knows?"
Phelps, an American, said he enjoyed the past 18 months away from swimming, spending the majority of his time traveling and playing golf. He said "the weight came on pretty quick" after he left swimming, going from 187 pounds at the London Olympics to a high of about 225 pounds. Phelps said he weighed 194 pounds the last time he checked last week.
"I'm really just trying to see how much weight I can lose, see what kind of shape I can get into and see what happens from there," Phelps said. "Being in the sport my entire life, I just enjoy being in the pool. Just being able to get back in that mentality of competition. That's the one thing I really loved about it the most."
Phelps's decision to swim competitively again comes two years before the 2016 Games in Rio, when he will be 31. Phelps said he recognizes that if he wants to compete again at a high level, he has to be ready by this summer.
No Sugarcoating
"When he came back, he was so out of shape," Bowman said as Phelps joked with him to take it easy and to try to "sugarcoat" it a bit. "It took a while to get to a point where he could do it in public. It is a process."
Phelps will compete in the 100-meter butterfly today in Mesa and opted to drop the 100 freestyle from his schedule.
A Maryland native, Phelps won six golds and two bronze medals at the Athens Olympics in 2004 and captured a single-games record eight gold medals four years later in Beijing. He won four gold medals and two silver in London.
Phelps said he's more relaxed now than he was before the 2012 Olympics. When asked if he thought an unsuccessful comeback might tarnish his career accomplishments, Phelps said he isn't concerned with how he's judged by others.
"I'm doing this for me," Phelps said. "I'm doing this because I enjoy being in the pool and I enjoy the sport of swimming. I am looking forward to wherever this road takes me."
Prior to his retirement, Phelps was earning about $7 million a year in endorsements from companies including Visa Inc., Subway and Procter & Gamble Co., according to Forbes magazine. His sponsorship with Speedo International Ltd, the swimwear unit of U.K.-based Pentland Group Plc, ended last year.
Phelps previously said he'd attend the Rio Olympics with his mom as a fan, and said that plan hasn't changed.
"I'm at least going with my mom," Phelps said. "Whether I'm in the pool or in the stands, time will tell."