Globalization's Peak Year Was 2007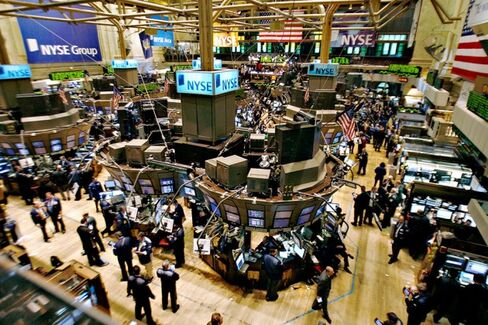 A broad new measure of globalization puts its peak year to date as 2007. Financial flows went into a steep decline when the global financial crisis hit in 2008 and still haven't recovered, according to the new report by the McKinsey Global Institute. "Goods and services flows have since surpassed their 2007 peak," the report says. "In contrast, financial flows remain almost 70 percent below their pre-crisis level, falling from 21 percent of global GDP to only 5 percent in 2012."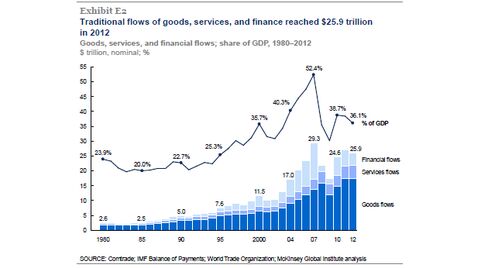 The falloff in globalization is a minor theme in the report, which for the most part accentuates the positive. It notes that emerging markets are quickly catching up to developed economies in their degree of connectedness. "If the spread of digital technologies and rising prosperity in emerging economies continues, global flows could nearly triple by 2025 and boost economic growth," it says.
The 180-page, seven-author study by the McKinsey Global Institute, the research arm of the consulting firm, defines globalization to include five types of what it calls "flows": trade in goods, trade in services, financial flows, movement of people, and exchange of data and communication across borders.
"Today," the report says, "35 percent of goods cross borders, up from 20 percent in 1990. More than a third of all financial investments in the world are international transactions, and a fifth of Internet traffic is cross-border." In contrast, it says, flows of people and services are less international.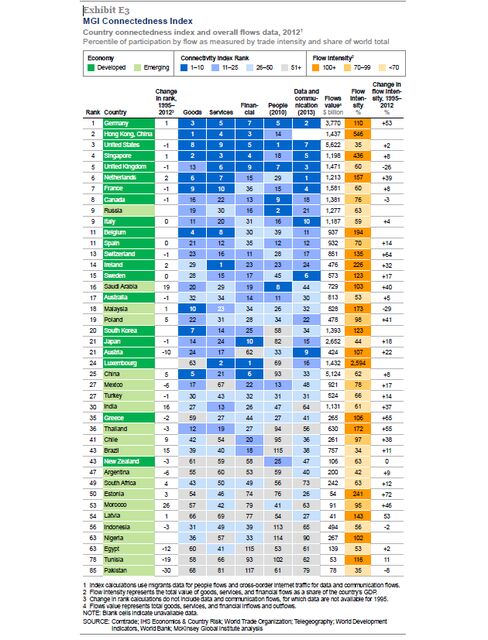 The top 10 countries or regions in the institute's new Connectedness Index are Germany, Hong Kong, the U.S., Singapore, United Kingdom, Netherlands, France, Canada, Russia, and Italy. (The last two are tied for ninth.)
Susan Lund, a McKinsey Global Institute partner who co-wrote the report, said, "This gives us a richer picture of how different countries are connected and how that's shifting." In McKinsey's methodology, the U.S. ranked high because it was No. 1 in people flows, while South Korea and Japan ranked 20th and 21st overall because they ranked low in people flows.
One exhibit shows how businesses selling on EBay have tapped into global markets in ways that traditional businesses haven't mastered. Between 96 percent and 100 percent of EBay sellers in emerging markets export, but only 4 percent to 25 percent of traditional small and midsize enterprises do so, the study shows.
Says Lund: "This is opening new opportunities but also new threats that you may not even realize you have."
Before it's here, it's on the Bloomberg Terminal.
LEARN MORE