Euro Factory Surveys Rise as Price Weakness Persists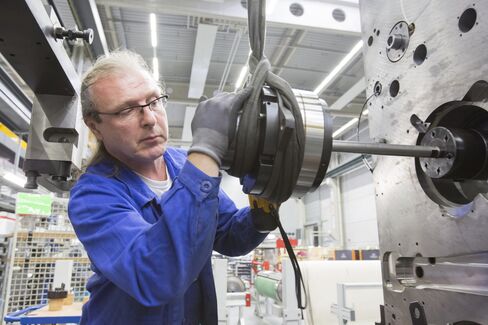 Euro-area services and manufacturing expanded faster than economists forecast in April, indicating the economy continued to strengthen at the start of the second quarter.
A composite index based on a survey of purchasing managers in both industries rose to 54 in April from 53.1 in March, London-based Markit Economics said today. That exceeded the median estimate of 53.0 in a Bloomberg News survey of economists and was the highest reading in almost three years. A reading above 50 indicates expansion.
The report supports European Central Bank President Mario Draghi's view that the 18-nation euro area is in a "modest" recovery. Still, the crisis in the Ukraine and the strength of the euro are threatening to undermine growth, while Markit's survey may reinforce policy makers' deflation concerns, showing that companies cut prices for a 25th straight month.
"While the crisis in Ukraine remains the biggest risk to our optimistic outlook for euro-zone growth, the April PMIs show no evidence that the situation has had any major impact so far," said Christian Schulz, senior economist at Berenberg Bank in London. "In the short-run, below-expectation inflation figures could still trigger more action, but the arguments of the hawks are certainly being strengthened by the buoyant economic performance in large parts of the euro zone."
China Weakness
Markit said its euro-area manufacturing index rose to 53.3 in April from 53 in March, while a services gauge increased to 53.1 from 52.2. Both exceeded economists' forecasts.
The increase in Europe stands in contrast to China, where the preliminary Purchasing Managers' Index from HSBC Holdings Plc and Markit was 48.3 in April, remaining below the expansion-contraction dividing line of 50.
"The euro zone has started the second quarter on a solid footing," said Chris Williamson, chief economist at Markit. "The big concern will be the outlook for prices. There will be growing fears that deflationary pressures are intensifying and that the ECB needs to respond with more than just words to the recent appreciation of the exchange rate."
In Germany, a composite of both manufacturing and services rose to 56.3 from 54.3, while a French measure declined to 50.5 from 51.8. The reports also pointed to easing price pressures, with the German survey showing that input costs were unchanged in April, ending a nine-month period of rising prices.
Unconventional Measures
Draghi said this month that policy makers were "unanimous" in their willingness to use unconventional measures to fend off the risk of falling prices. Inflation in the euro area slowed to 0.5 percent in March, which compares with the ECB target of below but close to 2 percent.
The ECB president also said that a stronger euro is undermining the fight against low inflation. The single currency has gained 6.5 percent against the dollar in the past 12 months, curbing the price of imported goods and the competitiveness of the region's exports.
The euro was up 0.2 percent against the dollar at 2:32 p.m. in London, trading at $1.3827.
Royal Philips NV reported yesterday that first-quarter sales fell 5 percent and earnings missed analyst estimates, partly because of the strength of the euro.
Other indicators also point to an improvement in the euro-area economy. Consumer confidence increased to the highest in six-and-a-half years in April, according to a report yesterday.
Today's Markit survey showed that service-sector employment returned to growth in April, while payrolls also increased at factories. In a sign of strengthening consumer demand, European car sales advanced for a seventh consecutive month, including at Renault SA, Ford Motor Co. and PSA Peugeot Citroen. Automotive executives are predicting industrywide European car sales, which reached a two-decade low in 2013, will expand by about 2 percent this year.