Drugmakers in Deal Frenzy Seek to Be First, Best or Gone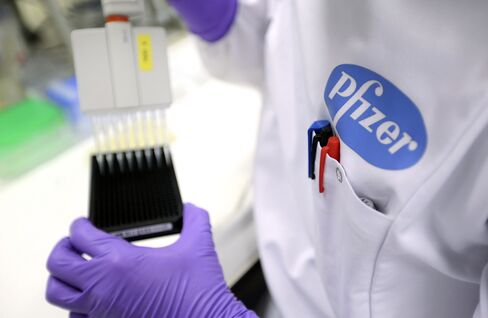 Do a few things, and do them well.
That's the strategy the drug industry is following in a wave of deals where small companies are getting bigger and the big ones are getting smaller. An industrywide recalibration that has been building since 2011 reached a peak this week with a flurry of activity by Pfizer Inc., GlaxoSmithKline Plc and Valeant Pharmaceuticals International Inc.
The biggest drugmakers are reshuffling units to get rid of ones that don't make them leaders in a particular market, while smaller players are buying competitors to add size, lest they be swallowed up themselves.
"Everyone wants to focus on where they can have a leadership position, or at least be in the top few," Jeff Jonas, a portfolio manager at the $50 billion Gabelli Funds LLC, said in a telephone interview.
That's the reason drugmakers like London-based Glaxo are quitting the cancer business as Basel, Switzerland-based Novartis AG bulks up. It also may be why New York-based Pfizer, which has a handful of promising oncology drugs, tried to buy AstraZeneca Plc, the London-based drugmaker with a complementary cancer portfolio.
To that end, Novartis yesterday agreed to buy Glaxo's oncology business for as much as $16 billion, to sell Glaxo its vaccines line for as much as $7.1 billion and to sell its animal health business to Eli Lilly & Co. for $5.4 billion. Valeant, meanwhile, announced a bid to buy Allergan Inc. for $45.7 billion, part of its announced strategy to join the ranks of the world's five biggest drugmakers.
Lilly's Action
The three-company transaction reflects the busiest period of industry deals since 2009, with $141 billion in pharmaceutical company acquisitions or divestitures over 12 months, according to data compiled by Bloomberg.
The be-first-or-get-out strategy was the justification for Indianapolis-based Lilly's part of the Novartis-Glaxo deal, said Lilly Chief Executive Officer John Lechleiter. While veterinary medicines weren't a priority for Novartis, Lilly sought to make them one.
"It's more important to be in that top tier of global companies," Lechleiter said yesterday in a telephone interview. "While we haven't been unnoticed in the space, now we are clearly a major player."
Animal Health
After the deal closes, Lilly will be the second-biggest animal-health company behind Zoetis Inc., Mark Purcell, an analyst with Barclays Plc, said in a note to clients.
The same business philosophy is driving dealmaking in human drugs, according to Lechleiter. "You're seeing companies strengthening areas where they're already strong and building up critical mass," he said.
Lilly fell less than 1 percent to $59.56 at the close in New York. Glaxo rose less than 1 percent to 1,642.5 pence in London, while Novartis fell less than 1 percent to 76.25 Swiss francs.
The strategy shift follows a decade of megamergers, including Sanofi's $74 billion purchase of Aventis SA in 2004, Pfizer's $64 billion purchase of Wyeth LLC in 2009, and four other deals since 2002 valued at $40 billion or more that consolidated the industry into today's multinational giants.
The reversal began in earnest in 2011, when Pfizer announced a strategic review of its non-drugs businesses. That culminated in the company's $11.9 billion sale of its nutrition unit in 2012, then the divestiture of its animal unit in a $2.24 billion initial public offering.
Changing Strategy
Gone are the days when a company with a powerful sales force could go to the market with the third or fourth drug in a class, then force its way into blockbuster sales, said John Boris, an analyst with Atlanta's Suntrust Banks Inc. That's the reason for Pfizer's bid for AstraZeneca, he said: Pfizer needs a deep offering of the best possible cancer drugs.
Pfizer and AstraZeneca are trying to make that transition from a time they used armies of sales representatives to sell broadly used drugs for basic health conditions. Years ago, they "could survive on second- and third-tier assets, based on their marketing muscle," Boris said in a telephone interview.
Drugmakers can't do that anymore, and Pfizer may have seen the writing on the wall. Two potential billion-dollar-plus drugs, Eliquis and Xeljanz, have fizzled in their starts. And its top experimental drug, the breast cancer treatment palbociclib, has a potent competitor in Lilly's bemaciclib.
Think 'Innovation'
AstraZeneca's oncology pipeline has experimental drugs that use the body's immune system to attack cancers, considered by analysts among the most promising areas for new treatments. Adding them would make Pfizer a powerful player in cancer.
"The operative word now is innovation," Boris said. "In a world where innovation is scare, AstraZeneca makes sense."
Pfizer spokesman Andrew Topen declined to comment.
Meanwhile, the small are getting bigger. Generic and specialty drugmakers such as Mylan Inc., Actavis Plc and Valeant have been buying competitors, expanding geographically and using the deals to cut costs.
"Everybody's still trying to achieve scale," said Marshall Gordon, and investor with ClearBridge Investments LLC. As companies that buy drugs in bulk or control prescriptions get bigger, drugmakers have to as well, he said.
The result is consolidation -- the top three generic-drug makers last year had total sales of copycat drugs that were 23 percent higher than the top three in 2009, according to data compiled by Bloomberg.
Generic-drug makers are also buying up more profitable injectable and brand-name drugs in a bid to grow bigger than rivals. Actavis's $25 billion deal for Forest Laboratories Inc. will give it a combined market value of about $60 billion, as of yesterday's share prices. That puts it just behind Lilly.
"As the industry ages and governments require more and more costs coming out of the system, there's only one way to deal with that and it's through more and more consolidation, even among the big guys," Actavis CEO Paul Bisaro said in a January interview in San Francisco.
Before it's here, it's on the Bloomberg Terminal.
LEARN MORE