Chicago Pension Measures in Doubt as Quinn Withholds Signature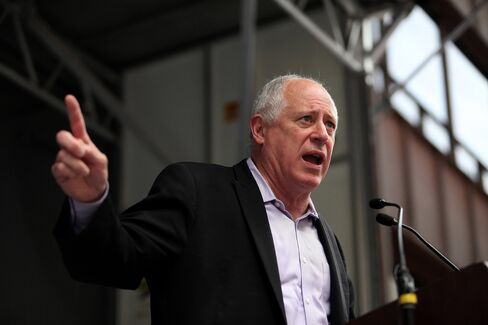 It's decision time in Chicago, the moment to rescue sinking pensions that could pull the city under. And nothing is happening.
Two weeks after Illinois lawmakers approved a bill to help stabilize two of the city's four municipal retirement systems, Governor Pat Quinn hasn't said whether he'll sign it. City Council members, a year from re-election campaigns, are balking at delivering their part of the deal -- a $750 million property-tax increase.
A recovery effort championed by Mayor Rahm Emanuel, who in 2011 succeeded 22-year incumbent Richard M. Daley, is imperiled as almost $20 billion in unfunded pension promises burden the nation's third-most-populous city. Chicago's credit rating has been cut four times since July to three steps above junk.
"The issue is 'Whose ox is going to be gored?'" said former alderman Dick Simpson. "It's a huge hit."
Retirement-fund pressure is bearing down on cities across the nation, including bankrupt Detroit and Stockton, California. Chicago has the highest pension costs as a proportion of revenue -- 17 percent -- among the largest cities, according to a November report from the Center for Retirement Research at Boston College.
Considered Decision
"The cost of paying for this is hitting a lot of cities," said Norton Francis, senior research associate at the Urban-Brookings Tax Policy Center in Washington. "They are surrounded by suburbs, and you don't want people to move out."
Chicago lost 7 percent of its population in the past decade. Among major U.S. cities, none save bankrupt Detroit lost more people. Emanuel's proposal to raise property taxes during the next five years to help funds for laborers and other workers reverses the 54-year-old Democrat's earlier opposition to such a measure and underscores the severity of the crisis.
"We don't take the property-tax increase lightly," said Alex Holt, the mayor's budget director.
Long-term pension promises and bond obligations have tripled Chicago's per-capita debt load in the past decade, to about $20,000 for each of its 2.7 million residents.
Skipped payments to police, fire, laborers and municipal employees' programs created a seven-fold increase in unfunded liabilities from 2000 to 2011, according to the Civic Federation of Chicago. That allowed politicians to avoid raising taxes in difficult times.
Still Pondering
The city's experience is an echo of the state's. Illinois officials spent years grappling with pension deficits that led ratings companies to make it the nation's lowest-rated state. Lawmakers approved a retirement restructuring in December, which is being challenged in court.
Quinn, a 65-year-old Democrat running for re-election this year, is a long-time critic of boosting property taxes. In his proposed state budget, the governor said his plan to extend personal and corporate income-tax increases enacted in 2011 should be coupled with real-estate tax relief.
His press secretary, Brooke Anderson, said yesterday that the governor is reviewing Chicago's bill and has until early June to decide.
"The worst thing for the city's economic development climate and economic attractiveness is to be in this constant state of uncertainty," said Laurence Msall, president of the Civic Federation, a Chicago nonprofit that analyzes government finance. "There's no comprehensive plan emerging."
Other Ideas
City Council members have suggested alternatives, including a tax on services and a commuter tax on suburbanites who work in the city. Alderman Will Burns told the Chicago Sun-Times there should be a "congestion fee" for motorists driving into downtown.
Michael Cornicelli, executive vice president of the Building Owners and Managers Association of Chicago, which represents about three-quarters of downtown commercial buildings, said his group supports the property-tax increase. It is "in the best interests" of the city, he said.
"Our main concern, though, is what's next? What else needs to be done?" Cornicelli said. "There are other funds that deal with police and fire. And we expect to see demands from the Chicago Teachers' Union, and the cumulative impact of all of that has yet to be seen."
The bill lawmakers approved April 8 does not include a solution for the underfunded police and firefighter systems. Chicago is on the hook to pay an additional $600 million next year to shore up those systems, unless lawmakers change the law or employees in those systems agree to benefit changes.
Simpson, the former alderman, said Chicago must respond to the crisis. The only question is when, he said.
"They have to pay," he said.