Billionaire Drahi Pays Up in Record Junk Sale: Corporate Finance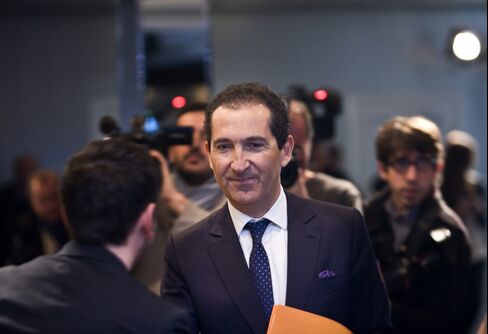 Billionaire Patrick Drahi is offering concessions to win over U.S. investors as he finances the acquisition of Vivendi SA's French phone unit with the world's biggest junk bond offering.
As part of about $23 billion of funding in euro and dollar bonds and loans to buy SFR, Drahi's Altice SA is paying 7.75 percent in interest on $2.9 billion of eight-year junk notes with a preliminary B rating from Standard & Poor's. That's more than the average 5.93 percent for similarly graded debt securities due in about eight years in the Bloomberg High-Yield Corporate Bond Index.
"This is Drahi's big splash into the U.S. bond market and providing solid returns will play well," said Chris Ucko, a New York-based analyst at debt researcher CreditSights Inc., which issued a report on the bond sale entitled "Priced to Make Friends."
The leveraged buyout signals a return of confidence in the euro region, which was in danger of breaking up two years ago as Greece, Ireland, Portugal and Spain sought bailouts amid a sovereign debt crisis. The deal comes after Western European buyers announced $149 billion of acquisitions in the first three months of the year, a nearly 60 percent gain from the start of 2013 that outpaced increases in North America and Asia.
Numericable, Altice
Drahi, 50, is raising the financing through Altice and its
Numericable Group SA unit.
An external spokesman for Numericable and Altice, who wouldn't be identified, citing company policy, declined to comment on the financing.
Numericable's outstanding 225 million euros ($311 million) of 8.75 percent notes rose 2 cents to a record 118 cents on the euro yesterday, according to bond prices compiled by Bloomberg. The notes yield 4.7 percent, compared with 8.6 percent when they were issued in October 2012.
Demand from bond investors means that Numericable can cut the amount of cash it planned to raise in the loan market. It reduced one six-year deal to $2.6 billion from more than $4 billion and another to 1.9 billion euros from 2.6 billion euros. The loans are being marketed to pay interest of 3.75 percent more than benchmark rates.
'Strong Demand'
"The way the bond tranches have changed shows the company has had some strong demand, especially out of the U.S.," said Duncan Warwick-Champion, head of corporate research at ECM Asset Management Ltd. in London, which oversees $8.6 billion in credit. "Numericable has looked at where the demand is and where they can get the best pricing."
Numericable priced $4 billion of eight-year notes to yield 6 percent, $2.4 billion of five-year securities at 4.875 percent and $1.375 billion of 10-year bonds at 6.25 percent. It also sold 1.25 billion euros of 10-year debt to yield 5.625 percent and 1 billion euros of eight-year bonds at 5.375 percent.
Drahi, the Morocco-born founder and chairman of Luxembourg-based Altice, beat a competing offer for Vivendi SA's SFR unit from Bouygues SA, which had the backing of the French government. Altice will own about 60 percent of Numericable after the acquisition, while Vivendi will hold 20 percent, and the remainder will be listed.
Numericable's debt is rated Ba3, three levels below investment grade, by Moody's Investors Service.
"This deal isn't coming at aggressively low yields," said Ucko, at CreditSights. "That compensates for the large size, the near-term risks in the French mobile market for investors and the likelihood that Drahi will probably want to come again to the U.S. bond market in coming years."
Before it's here, it's on the Bloomberg Terminal.
LEARN MORE