Barrick's Munk Says Spinoff in Any Newmont Deal Cuts Risk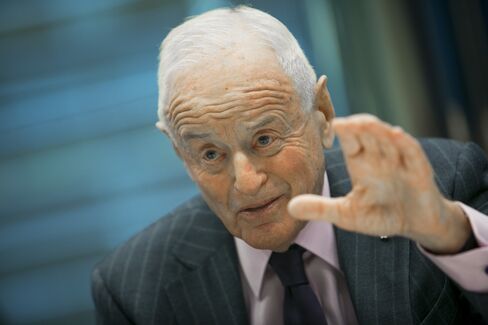 Barrick Gold Corp. Chairman Peter Munk said spinning off assets as part of a proposed merger with Newmont Mining Corp. would help reduce risk at a time when investors have become increasingly concerned about the hazards of operating in politically volatile countries.
The spinoff of some mines outside of North America would improve profitability and make a Barrick-Newmont combination more attractive, Munk said. A merger also would reduce costs in Nevada, where the companies operate "cheek by jowl," he said.
"Political risk looms very high in mining companies' calculations," Munk said yesterday in an interview at Bloomberg's headquarters in New York. "You can't get lower than Nevada."
Merger negotiations between the world's two largest gold producers ended last week amid disagreements over which mines to include in a spinoff, two people with knowledge of the matter said April 19. Barrick and Newmont are still interested in getting a deal done and have identified annual cost savings of $1 billion, mostly in Nevada, the people said.
Munk, 86, declined to comment directly on last week's talks. He said that while Toronto-based Barrick and Greenwood Village, Colorado-based Newmont have discussed a combination on as many as five previous occasions, those negotiations hadn't included spinning off assets.
Omar Jabara, a Newmont spokesman, declined to comment on the talks. Barrick fell 1.4 percent to C$19.33 at 9:34 a.m. in Toronto while Newmont slid 1.8 percent to $25.45 in New York.
Turbulent Years
Host governments and local communities can have a significant effect on the profitability of a mining project. Barrick last year had to renegotiate a lease for its new Pueblo Viejo mine to give the Dominican Republic more revenue, after President Danilo Medina called the previous pact "unacceptable."
Newmont's Conga project in Peru has been delayed after protests left five dead in 2012. In Indonesia, the company is in talks with the government about resuming shipments of copper concentrate from its Batu Hijau mine after the country introduced new restrictions and duties on mineral exports.
Munk, who founded Barrick in 1983, is set to retire as chairman at the company's annual shareholder meeting next week, when he will be replaced by Co-Chairman John Thornton.
Munk's departure follows a turbulent two years at Barrick. The company fired its chief executive officer in 2012, revealed ballooning costs at a Latin American project and grappled with a plunging gold price that squeezed profit margins and spurred $11.5 billion of writedowns.
'Get Smaller'
The company, under CEO Jamie Sokalsky, has sold about $1 billion of assets in the past year, closed a mine in Peru and reworked development plans at other operations to focus on the most profitable ore. Barrick's forecast production of 6 million to 6.5 million ounces of gold this year would be the lowest in nine years.
Under the most recent merger plan, Newmont CEO Gary Goldberg would have retained that title at the combined company, while Thornton would have been executive chairman, the people said. Sokalsky was to run the new spinoff.
A merger with Newmont wouldn't necessarily mean Barrick's production would increase significantly, Munk said.
If a merger and spinoff were completed, the companies would be able to reduce their combined production of more than 13 million ounces to a range of 6.5 million to 7 million, he said. "Not only don't we get bigger, we both get smaller. But we get much, much more profitable."
Mining Roots
Barrick and Newmont have their strongest mining roots in Nevada and both used the state as a base from which to expand their operations across five continents.
Newmont produced 1.77 million ounces of gold in Nevada last year, the company said in a Jan. 31 presentation, 35 percent of its total gold output of 5.07 million ounces. Barrick's Nevada production was about 2.79 million ounces, 39 percent of last year's total.
Barrick and Newmont already are equal partners in the Kalgoorlie mine in Australia and jointly own the Turquoise Ridge mine in Nevada, with Barrick controlling 75 percent.
Barrick and Newmont may face pressure from shareholders to reach a deal after the negotiations were reported last week, Munk said. For years, investors have been expressing support for the companies to work together after hearing their respective presentations at mining conferences, he said.
"The most prevalent question on each is, 'What's wrong with you?" Munk said. "'Why don't you combine and give us a better return on our investment?'"
Munk described Nevada as the world's most prolific gold-producing region, where the two companies run intertwined operations with an "enormous amount of overlap."
"If you can combine those and ignore the border and you can mine it as one entity, the savings are very significant," he said.