Barclays May Cut 7,500 at Investment Bank, Bernstein Says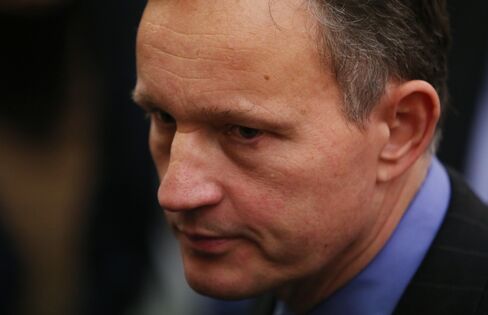 Barclays Plc, the U.K.'s second-largest bank by assets, could eliminate 7,500 jobs at its investment bank to improve returns at its securities unit, according to a report by Sanford C. Bernstein.
The European fixed-income, currencies and commodities business, or FICC, may be the hardest hit, with about 5,000 job losses, analysts led by Chirantan Barua said in a note yesterday. Cuts of 6,500 to 7,500 equate to between 25 percent and 30 percent of the unit's employees, the report estimated. London-based Barclays should eliminate managing directors first, followed by more junior positions, Barua said.
"The U.S. broker-dealers have been far more proactive in attacking this situation than the European peers," he wrote. "It has to be cross-sectors, trading desks not only commodities, as the very risk-taking nature of the business has fundamentally changed and is not reflected in people stacks."
Antony Jenkins, who replaced Robert Diamond as Barclays's chief executive officer in 2012, is trying to restrict pay at the investment bank and boost earnings to help restore investor confidence after the lender was fined for manipulating benchmark interest rates. Barclays holds its annual general meeting in London tomorrow and is preparing to outline to investors a review of its securities unit next month.
A Barclays spokesman declined to comment on the report. The bank's shares have fallen about 10 percent in the past 12 months compared with a 19 percent gain for the Bloomberg Europe Banks and Financial Services Index. Barclays shares rose 0.7 percent to 248.9 pence in London today.
Commodities Cuts
The bank said yesterday it will withdraw from most of its global commodities activities, joining JPMorgan Chase & Co. and Morgan Stanley in cutting back as revenue falls. The unit has 160 employees, according to the company's website.
Barclays has been encouraged to shut some investment-bank activities as investors seek lower compensation at the unit, after FICC revenue fell 17 percent to 5.54 billion pounds ($9.32 billion) in 2013.
"The loss of income in FICC in the past nine months is probably the best thing that could have happened to strategic investors locked in Barclays," Barua said. "It has finally pushed management to put on a structural lens to solve a problem that was thought of as cyclical till now."
Bernstein, which has a market-perform rating on Barclays's shares, said FICC income will be in the 4.5 billion-pound to 5.5 billion-pound range in the next three years, down from the 7.8 billion-pound average from 2009 to 2012. FICC is traditionally the biggest portion of revenue for the investment bank.