Yankees' Nova Gets Surgery Recommendation; Nuno Is Fifth Starter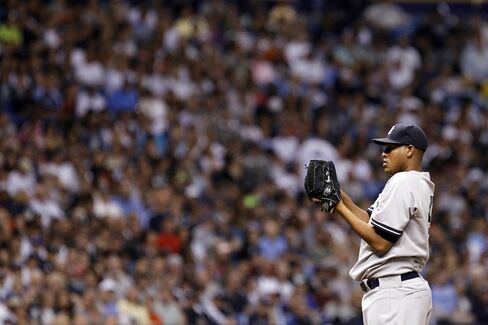 Surgery was recommended for New York Yankees pitcher Ivan Nova after tests confirmed a partial tear of his right ulnar collateral ligament in his elbow.
The team, in a news release yesterday disclosing the findings, did not say when Nova would have the operation or if he would seek another opinion.
With the loss of the 27-year-old right-hander, Vidal Nuno will become the Yankees' fifth starter, manager Joe Girardi told reporters prior to the team's 9-3 win at the Boston Red Sox last night.
Nuno, a 26-year-old left-hander, has appeared in four games this season, posting a 6.75 earned run average without figuring in any decisions. He pitched five innings on April 20 against the Tampa Bay Rays, allowing no earned runs on three hits while striking out six and walking two.
Nova was 2-2 with an 8.27 earned run average in four starts this season before being placed on the disabled list on April 20. In five seasons with the Yankees, he's 40-22 with a 4.20 ERA.
Elbow ligament replacement surgery, known as Tommy John surgery after the former Major League Baseball pitcher who first had the procedure in 1974, generally requires 12 months of recovery time.
Before it's here, it's on the Bloomberg Terminal.
LEARN MORE