Ukraine Accord Nears Collapse as Biden Meets Kiev Leaders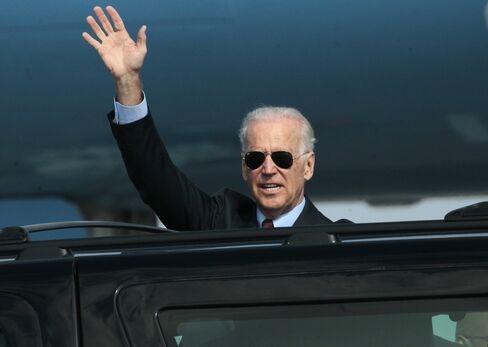 An agreement to ease tensions in Ukraine showed signs of crumbling as the U.S. and Russia traded blame as Vice President Joe Biden meets government leaders in the Black Sea country.
U.S. Secretary of State John Kerry warned Russian Foreign Minister Sergei Lavrov yesterday "there will be consequences" if Russia fails to act "over the next pivotal days" to restrain pro-Russian militants in eastern Ukraine, spokeswoman Jen Psaki said in Washington. In Moscow, Lavrov called on the U.S. to hold Ukraine's government accountable for curbing what Russia portrays as right-wing militias.
Pro-Russian forces who seized buildings in at least 10 eastern Ukrainian cities have said they are not bound by the deal reached by Ukraine, the European Union, the U.S. and Russia in Geneva on April 17. The government in Kiev accuses Russian President Vladimir Putin of stirring the unrest and exploiting the situation to prepare a potential invasion.
"As of today, the Russian side has shown no signal that it is ready to implement the Geneva accords," Ukraine's Foreign Ministry said late yesterday in an e-mailed statement. "Illegal armed groups controlled by Russia continue to destabilize the situation in eastern Ukraine, preparing the ground for another stage of Russian military aggression."
Sanctions Approach
Biden will offer U.S. support for Ukraine's sovereignty and economy in today's visit, according to an Obama administration official who briefed reporters on condition of anonymity. While the U.S. won't unveil new sanctions while Biden is on this trip, the official said President Barack Obama's administration hasn't seen progress on the accord. A decision will be made in a matter of days.
The crisis has hit both Russian and Ukrainian markets. Russia's Micex Index index fell 0.6 percent at 10:17 a.m. in Moscow, taking the year-to-date decline to 11 percent. The Russian currency was 0.3 percent higher against the central bank's target basket of dollars and euros to 41.7697.
Biden met Ukrainian acting President Oleksandr Turchynov and was later set to speak in what the Obama administration official described as a symbolic show of solidarity with Ukraine ahead of a May 25 presidential election.
Technical Assistance
Biden will unveil a package of technical assistance to Ukraine in implementing energy and economic reforms, said the official. The vice president will also continue talks on additional non-lethal security aid, the official said.
"The interim Ukrainian government needs to be reassured that the U.S. will be present in the region for the long haul, not just in the heat of the crisis," said Heather Conley, director of the Europe Program at the Center for Strategic and International Studies in Washington.
The U.S. has threatened further penalties against Russian interests, including measures targeting the banking and energy industries, unless progress is made in easing the crisis sparked by Russia's annexation of Crimea last month.
Deputy National Security Adviser Ben Rhodes said yesterday the U.S. "will move to additional sanctions," including some on Russian President Vladimir Putin's "cronies" and their companies if pro-Russian forces don't disarm and give up the buildings they've seized.
In an interview aired on MSNBC, Rhodes signaled that any expansion of sanctions would be measured, with penalties aimed at entire sectors "kept in reserve for a more dramatic escalation by the Russians." He said the administration is seeking "to bring along" European nations that have more extensive energy and trade ties with Russia than the U.S. does.
Resistant Separatists
U.S. Ambassador to Ukraine Geoffrey Pyatt said it will take "days, not weeks" to determine whether Russia is complying with the Geneva agreement.
Russia's Lavrov called on the U.S. to avoid threats of sanctions, while brushing off accusations that Russian forces are involved in attacks in Ukraine. Russia is receiving increasing requests to intervene in eastern Ukraine to protect the Russian-speaking population, he said yesterday in Moscow.
Vyacheslav Ponomaryov, who leads pro-Russian forces in Slovyansk in eastern Ukraine told reporters yesterday that "the things that were agreed on in Geneva were agreed on without us taking part."
"We don't have any relation to the things that were said in Geneva," Ponomaryov said. "We are not aggressors, we are on our own land."
Roadblock Killings
At least three "activists" were shot dead at a roadblock in Slovyansk over the weekend, Ukraine's Interior Ministry said. The clash wounded three others, the ministry said.
Ukraine's Security Service said saboteurs carried out the assault, while Lavrov yesterday blamed supporters of the government in Kiev.
"This is a crime carried out by those who want to abort the implementation of the Geneva agreement," Lavrov said. "Everything points to the fact that the Kiev authorities either don't want to or can't control the extremists."
Russia's Foreign Ministry blamed the Ukrainian nationalist group Pravyi Sektor for the attack, which Pravyi Sektor denied in a statement. Ukraine's Foreign Ministry reiterated in its statement there were no evidenced that Pravyi Sektor was involved.
Before it's here, it's on the Bloomberg Terminal.
LEARN MORE