U.S. Home Prices Rose 6.9% in February as Recovery Cools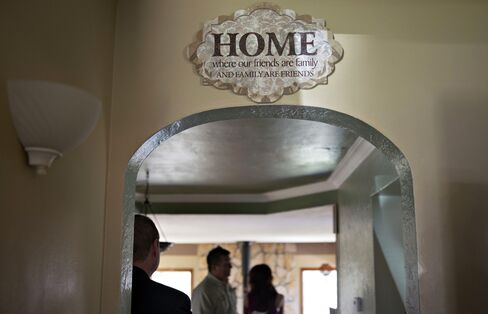 U.S. house prices rose 6.9 percent in the 12 months through February, the smallest gain in a year, in a sign that the housing market's recovery is cooling.
Prices climbed 0.6 percent on a seasonally adjusted basis from January, the Federal Housing Finance Agency said today in a report from Washington. The average economist estimate was for a 0.5 percent increase, according to data compiled by Bloomberg.
Price gains, driven by competition for a tight supply of listings, may be poised to slow as real estate becomes more expensive, more sellers list houses and homebuilders add to the supply of available properties. The average rate for a 30-year fixed mortgage has climbed by almost a percentage point from a year ago, further reducing affordability.
"We're still seeing prices growing because inventory is tight," Patrick Newport, an economist at IHS Global Insight in Lexington, Massachusetts, said in a telephone interview yesterday. "But going forward, we see year-over-year price growth slowly decelerating."
Sales of previously owned U.S. homes fell 0.2 percent in March from the previous month to a 4.59 million annual pace, the lowest level since July 2012, the National Association of Realtors reported today in Washington.
The 12-month increase in the FHFA index was the smallest since January 2013, according to data compiled by Bloomberg.
The FHFA's report showed prices increased 14.3 percent from a year earlier in the Pacific area, which includes California and Oregon. In the Mountain region, with state such as Colorado and Nevada, the gain was 11.2 percent. The New England area -- including Connecticut and Massachusetts -- had the smallest increase, at 0.6 percent.
The index measures transactions for single-family properties financed with mortgages owned or securitized by Fannie Mae and Freddie Mac. It doesn't provide a specific price for homes.
Before it's here, it's on the Bloomberg Terminal.
LEARN MORE