Netflix Said to Expand Web Service to France by Year-End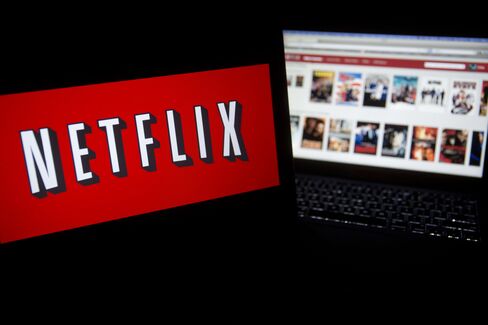 Netflix Inc., pressing ahead with its international expansion, will introduce its online video service in France by year-end, according to a person with knowledge of the situation.
The world's largest subscription service, which produces the Emmy-winning political drama "House of Cards," has mostly concluded talks with French regulators about how to pay for content and comply with streaming rules, said the person, who requested anonymity because the discussions are private.
Chief Executive Officer Reed Hastings has said he plans to expand to at least two more European countries this year in a drive to create a global Internet TV player. France ranks second in Europe for total broadband Internet accounts after Germany, another target for Netflix expansion.
Hastings declined to comment in an April 21 interview on which countries figure next in his expansion plans.
"Internationally, we're starting to get better in every country, whether it's Brazil, Ireland or Sweden," Hastings said. "There's a lot of stuff we're learning and doing better at as we expand."
The Los Gatos, California-based company predicts it will sign up 1.46 million new streaming subscribers this quarter, including 940,000 internationally. Netflix finished the first quarter with 48.4 million online customers worldwide.
Hastings said April 21 that he's confident Netflix can reach its eventual target of 60 million to 90 million U.S. subscribers. The company can exceed the 127 million global subscribers Time Warner Inc. has for HBO and Cinemax, he's said previously.
Local Challenges
Expanding to France and elsewhere presents fresh challenges for Netflix as it tries to fill its content library. In France, Canal Plus, a division of Vivendi SA, says its CanalPlay on-demand subscription service has exclusive rights to the second season of "House of Cards," a Netflix original series in other countries.
In Germany, Sky Deutschland AG, controlled by Rupert Murdoch's 21st Century Fox Inc., also holds those rights.
Ted Sarandos, Netflix's chief content officer, said on a webcast on April 21 that not having rights to some original shows in new territories won't stop the company from starting service in those markets.
Joris Evers, a Netflix spokesman, declined to elaborate on the remarks by Hastings or Sarandos.
French cultural protection laws require video services to reinvest about 15 percent of their revenue in French and European productions. Netflix could avoid the fees by streaming from Luxembourg, according to French news site Les Echos.
Pay-TV Rules
France also bars movies from appearing on subscription video-on-demand services, like Netflix, for three years after their theatrical run, and requires providers to offer at least 50 percent European content.
Among other services in Germany, Netflix would go up against Amazon.com Inc.'s Prime Instant Video subscription service. Netflix also competes with Amazon in the U.K. and U.S.
Netflix rose 7 percent to $372.90 at the close in New York yesterday, a day after reporting first-quarter profit that beat analysts' predictions and announcing plans to raise prices. The shares have dropped 18 percent from the record $454.98 set on March 4.