Name That Fake Flavor: Doritos Brings Back the Mystery Chips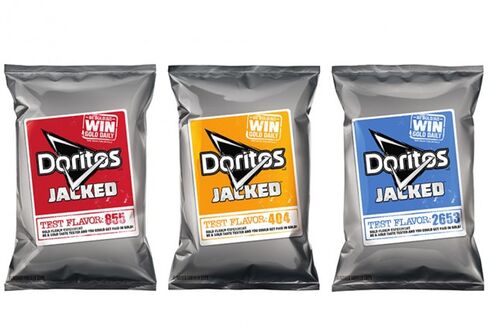 Even as some shoppers seem to want to know everything about their food—where it came from, how it was grown, what ethical issues they should concern themselves with—there still enough of us happy to nosh on unidentified snacks. Doritos will give the ignorance-is-bliss snackers three mystery-flavored varieties of tortilla chips this week, sold under such appetizing designations as Test Flavor 2653.
The unspecified chips are from the PepsiCo brand's Doritos Jacked line, and those brave enough to taste them can vote for a favorite to join the repertoire this fall. The intentionally vague marketing is part of a campaign encouraging fans to be "bold," which seems an apt way to describe someone looking to eat chips packaged like an unfinished industrial food experiment.
As countless Internet videos of people eating weird things proves, human are defenseless against their own curiosity. But Doritos would not benefit from making truly gross-tasting products. "We know bold means different things to different consumers," Jeff Klein, senior director of marketing of Frito-Lay, said in an e-mail. "We're excited to see how consumers respond and which flavor they vote as their favorite."
This isn't the first time Doritos has offered a mystery flavor. In 2007 it launched the "X-13D Flavor Experiment," which allowed the public to name a new mystery chip. The mystery chip reportedly tasted a lot like a Doritos variety sold a few years later under the name All Nighter Cheeseburger, although PepsiCo won't verify what X-13D was eventually named. Doritos followed up in 2008 with a promotion dubbed the Quest, in which consumers had to guess a mystery flavor. (It turned out to be Mountain Dew.)
Beyond the world of chips, let's not forget Airheads White Mystery and Dum Dums mystery flavored lollipops. The snack world is mysterious, indeed.
Before it's here, it's on the Bloomberg Terminal.
LEARN MORE