John Stafford, Who Led Wyeth in Merger Quest, Dies at 76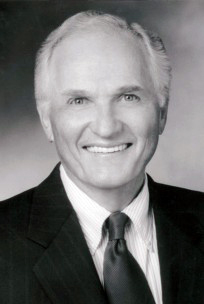 April 22 (Bloomberg) -- John Stafford, the chief executive officer of American Home Products Corp. who sold units to focus on pharmaceuticals and made three attempts to merge before changing the company's name to Wyeth, has died. He was 76.
He died on April 18 at his home in Essex Fells, New Jersey, where he had lived since 1976, Carolyn Stafford Stein, his daughter, said today in a telephone interview. The cause of death was prostate cancer.
Stafford, who was CEO from 1986 to 2001 and chairman from 1986 to 2002, boosted investment and research in American Home's pharmaceuticals division while spinning off non-related units, such as Brach's candy, household goods and agricultural chemicals. With brands such as Anacin aspirin, Dristan cold medicine and Premarin estrogen treatment, then the most-prescribed drug in the U.S., annual revenue almost tripled to $14.6 billion under his leadership.
The former lawyer also courted SmithKline Beecham Plc and Monsanto Co. in failed merger attempts before a $58 billion deal with Warner-Lambert Co. to create the world's largest drugmaker fell apart in 2000 in a takeover battle won by Pfizer Inc. Stafford also presided over the $9.7 billion acquisition of American Cyanamid Co. in 1994 that included its Lederle Laboratories unit.
Stock Gain
In 2002, American Home changed its name to Wyeth, which was bought by Pfizer seven years later. By the time he stepped down as CEO, the shares had increased sixfold during his tenure.
"Stafford is credited with moving American Home Products from a diversified manufacturer of consumer health products into a major pharmaceutical company," according to a Harvard Business School profile. "He did so while consistently achieving impressive financial returns."
American Home's attempts to merge with Warner-Lambert, the maker of the cholesterol treatment Lipitor, followed its removal of two diet pills and one painkiller from the market and a $3.75 billion settlement of diet-pill litigation in 2000. Warner-Lambert was purchased by Pfizer in a hostile takeover that left American Home with a breakup fee of $1.8 billion.
"We've made it on our own since 1926," Stafford said in a March 2000 interview with the New York Times after losing the bid for Warner-Lambert. "We're in a better position now than we've been in sometime in terms of our pipeline and balance sheet. There is no question that we can compete."
Settlement Reserve
Lawsuits over the diet drugs, known as fen-phen and recalled in 1997, led to the settlement reserve being increased to $21 billion after Stafford's retirement. Former users of the appetite suppressants claimed the pills caused an often-fatal lung disease and that the company hid the health risks.
John Rogers Stafford was born on Oct. 24, 1937, in Harrisburg, Pennsylvania. His father, Paul Stafford, was a civil engineer, and his mother, Gladys Sharp, was a homemaker.
He attended Dickinson College in Carlisle, Pennsylvania, before earning a law degree at George Washington University, in Washington, D.C., where he edited the law review. Stafford then practiced law for four years at the Washington-based firm Steptoe & Johnson before joining the health-care company Hoffmann-La Roche in Nutley, New Jersey, as a lawyer in 1966.
In 1970, Stafford moved to American Home Products as general counsel and was named vice president two years later. He became a director in 1980 and president the following year.
Employee Care
"He was tremendously proud, and rightfully so, with what he could do with AHP," his daughter said. "The way they tried to take care of their employees was one thing he was particularly proud of."
Under Stafford, American Home moved its headquarters in the early-1990s from midtown Manhattan to Madison, New Jersey, where it built a child-care center and gymnasium on site for employees. Workers were also granted equal time off for adoption as for maternity leave, his daughter said.
In 1959, Stafford married the former Inge Paul, a psychologist, whom he met at Dickinson College. She died in April 2012.
His survivors include their four daughters, Carolyn Stein, Jennifer Farrow, Christina Chapin and Charlotte Stafford; 13 grandchildren; and five great-grandchildren. He also is survived by a brother, P. Gordon Stafford.
To contact the reporter on this story: David Henry in Frankfurt at dhenry2@bloomberg.net
To contact the editors responsible for this story: Charles W. Stevens at cstevens@bloomberg.net Steven Gittelson