Google and Other Tech Companies Need Lessons in Local Philanthropy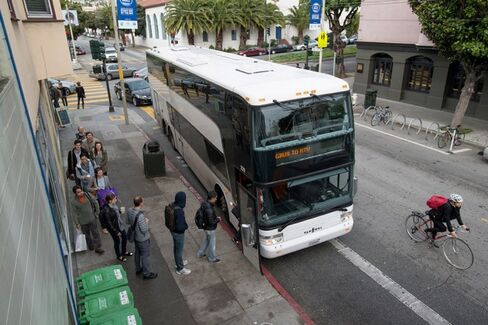 Google and some of its Silicon Valley corporate neighbors are under attack from San Francisco residents who feel these companies are responsible for many of the city's problems and are apathetic about solving them. In protest, some residents have barricaded Google buses, confronted Google employees and staged sit-ins in front of their managers' homes.
This should be a wake-up call to large corporations that have cut back community support, thinking it doesn't matter. Over the past three decades, U.S. corporations have drastically curtailed charitable giving. In 1986 the average corporation donated the equivalent of 2.1 percent of its profits to charitable causes. By 2012, that had dropped to just 0.8 percent.
The tech sector is perhaps the biggest offender. One might expect the streets of San Francisco to be paved with gold from all of the wealthy companies in the area. Yet unlike other cities that have received parks, schools, or hospitals from local corporations, San Francisco has little or nothing to show from any of the big tech companies. In fact, the city had to cut its services over the past five years because of budget shortfalls.
To make matters worse, some of these companies took money out of city coffers through aggressive negotiation. Twitter negotiated $56 million in tax breaks from San Francisco to support its expansion prior to its initial public offering. Oracle's Larry Ellison—the fifth wealthiest man in the world with a net worth of $50 billion—convinced San Francisco to put up public funds to host the America's Cup race (Ellison owns Oracle Team USA), costing the city $11.5 million after fundraising efforts fell short.
On the flip side, tech companies have created some clear problems for San Francisco residents. The influx of out-of-town tech workers sent rents skyrocketing. This in turn created a speculative real estate market, further driving up prices and rents, and driving out long-term residents.
Many tech companies set up private luxury buses to take their San Francisco-based workers to Google, Apple and other campuses. The presence of these buses encourages more new workers to live in San Francisco, further driving up rents and taxing the city's resources. The buses also keep tech workers off the local public transit lines, which need more ridership to stay afloat.
To make matters worse, some of the senior managers at these tech companies are fueling the problem through personal actions that demonstrate a clear lack of sensitivity to the city's residents. A Google attorney was recently in the news for starting eviction proceedings against tenants in an apartment building he owns so he could take it off the rental market.
While some of these problems may be unavoidable in a growing city, the seeming lack of interest from tech companies in solving them is the real issue. After the protests began, Google hastily donated $6.8 million to San Francisco transit in a bid to make its problems go away. If Google were serious about community support, it would use some of its brainpower and cash to help create a real solution to the city's housing and transportation problems.
Google is one of the most philanthropic U.S. companies, donating over $1.1 billion to charitable causes in 2012, equaling 8.5 percent of its profits. The trouble is little of this money goes to solve local issues; most is targeted to world problems like hunger, disease, and education in developing countries.
Other tech companies are notably absent from philanthropic lists. Apple—the most valuable company in the world—was well known under Steve Jobs's leadership for its lack of charitable giving.
You can argue, as Milton Friedman did, that companies have no obligation to charitable causes and should not divert profits to them. But then again, Friedman never witnessed a Google bus protest. As the protests become more intense and personal—targeting Google managers at their homes—it's clear Google and the other members of the Bay Area tech industry need to change or they're going to have much bigger problems than protecting their profits.
Before it's here, it's on the Bloomberg Terminal.
LEARN MORE