Citigroup CEO Says More Face Discipline on Mexico Fraud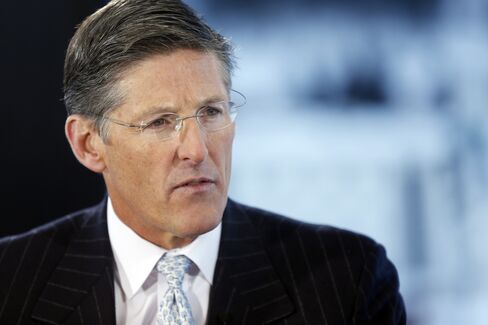 April 22 (Bloomberg) -- Citigroup Inc. Chief Executive Officer Michael Corbat said he expects others to be disciplined after the bank fired an employee linked to a suspected $400 million fraud at the company's Mexico unit.
"One person has already been terminated," Corbat said today at the firm's annual meeting in St. Louis. "I expect that others will be disciplined as well -- either for actions, or, just as important, inactions that helped enable this fraud."
The case involved bogus loans to Mexican oil-services firm Oceanografia SA that reduced the New York-based bank's 2013 profit by $235 million, Citigroup said on Feb. 28. Corbat today didn't name the fired employee. Two people briefed on the incident said earlier this month that a Citigroup worker in Mexico left the bank's offices with documents related to the suspected fraud. The junior worker at the Banamex unit has since been fired, one of the people said.
"I want you to know that I've made crystal clear to all our employees that I expect the very highest standards from each and every one of them," Corbat, 53, said at today's meeting.
Corbat faced shareholders disappointed by the losses from fraud and the company's failure of the Federal Reserve's annual bank stress tests last month, the second rejection in three years. Shareholders peppered Corbat and Chairman Michael O'Neill with questions about whether more should be done to simplify the bank and whether it's too large to manage.
Simpler, Safer
"It's Mike's job to demonstrate" that it can be managed effectively, O'Neill said. "It is a simpler and safer place than it was. Are we happy with where we are? No."
The bank has sold $600 billion in assets and exited more than 60 businesses, O'Neill said. In the last month, Citigroup has said it would sell its Honduran consumer bank and a third of its branches in South Korea.
"Arguably we have done more restructuring than any company in history," the 67-year-old chairman said.
Shareholders weren't angry enough to reject the company's executive-compensation plan, as they did at the 2012 meeting about six months before then-CEO Vikram Pandit was ousted. About 84.6 percent of investors voted in favor of the pay plan during the annual meeting today, according to preliminary numbers provided by Rohan Weerasinghe, general counsel and corporate secretary.
Lobbying Defeat
Each of the nominees for director was elected to the board, according to Weerasinghe. A shareholder proposal to force the bank to disclose more about its lobbying practices was rejected after getting 21.6 percent of the vote.
Citigroup fell 8.2 percent this year through yesterday to $47.84, third-worst in the 24-company KBW Bank Index, which declined 0.4 percent.
"I feel your pain," O'Neill told shareholders at the meeting, referring to the stock's performance.
The bank, ranked third by assets in the U.S., posted a surprise increase in first-quarter profit last week to $3.94 billion.
O'Neill said next year's annual meeting will be webcast for shareholders unable to attend, after criticism about its corporate-governance practices from Michael Mayo, an analyst at CLSA Ltd. who had called on the bank to webcast the event.
To contact the reporter on this story: Dakin Campbell in New York at dcampbell27@bloomberg.net
To contact the editors responsible for this story: Peter Eichenbaum at peichenbaum@bloomberg.net Steve Dickson