Brooklyn Brewery's Steve Hindy on the Rise of Craft Beer and Butting Heads With Boston Beer's Jim Koch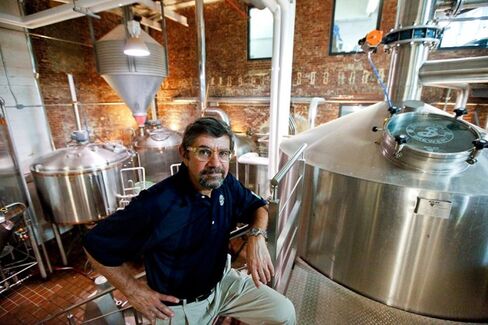 Steve Hindy's fellow journalists thought he had lost his mind in the mid-1980s when he left his job at Newsday to start Brooklyn Brewery in New York. They must feel differently now. Today, Hindy is chairman and co-founder of America's ninth-largest craft beer maker and is recognized as one of the leaders of a rapidly growing industry. He writes about his experience in The Craft Beer Revolution: How a Brand of Microbrewers Is Transforming the World's Favorite Drink, which arrives in stores today.
Hindy's book is a straightforward, entertaining account of his industry's battles with larger competitors such as Anheuser-Busch InBev, its growing pains, and its internal squabbles, including Hindy's long-running feuds with fellow craft beer pathbreaker Jim Koch, chief executive officer of Boston Beer. The two go back to the '90s, when they fought over which of them had the right to advertise their beers as winners of the Great American Beer Tasting. I talked to Hindy this week about why he decided to return to writing, at least temporarily.
Why did you decide to write your book?
I was a journalist for 15 years, and I guess I never really kicked the habit.
Did you ever expect the craft beer industry to become this big when you started out in 1988?
To be honest, in the beginning people said to me, "Are you crazy? You know, how can you possibly compete with Bud, Coors, and Miller?" The interesting thing is, 26 years later, craft beer is like 8 percent by volume and probably 14 percent by dollars. And now we really are competing with the big brewers.
You're actually exporting beer, too, now. Right?
That's kind of a wonderful irony.
So three weeks ago we opened a brewery in Stockholm called New Carnegie, and it's a partnership with Carlsberg, and we have a Swedish subsidiary company called Brooklyn Sweden that operates the brewery. We sell a lot of beer all over Scandinavia and the U.K., and actually France and Brazil and Australia. The craft beer revolution really is spreading around the world.
I was interested in reading about your fights with Jim Koch.
Jim and I have battled a lot over the years. Jim is a very courageous guy who is always pushing the envelope. And I guess there have been times over the years when I thought he was pushing the envelope his own way. But believe it or not, we are friends.
What do you think he's going to think of the book?
Did you see the blurb he wrote for the book? Jim's quote is: "While Steve Hindy and I still disagree about many things, including some of his stories in this book, no one has done a better job of bringing to life the cast of characters who created the craft beer revolution."
Why do you think he and some other craft brewers are sort of overstating the threat of AB InBev and MillerCoors?
It's too early to say if they're wrong, I would say. Anheuser-Busch just cut the price of [its craft-style] Shock Top and Goose Island in Washington State and Oregon in half. That's what Jim and others have always cited as the danger. But I think that the big guys getting into craft beer is a compliment to us. It just means more Americans are going to be exposed to craft beer.
And craft beer drinkers are not brand-loyal the way mainstream beer drinkers have been. Once they get into the category, they want to try new things, and they want to sample. They're more likely to walk into a bar and say, "What's new?" And that's a challenge for all of us. But that is what the category's about.
That's a challenge for larger craft brewers, is it? I mean, isn't that your point?
Yeah, Brooklyn Lager is half our production, you know? It's our big brand. It's growing nicely. The rest of our portfolio is an incredible array of innovative beers. Every quarter, for instance, we do a new draft beer that we call Brewmaster's Reserve, and those are very quirky, innovative kinds of beers. Like the one we have right now is called Hammarby Syndrome. It's made with a grain called spelt, which is—it's kind of an ancient version of wheat. It's also got spruce tips in it. So it's got a little bit of a piny tang to it. We know we have to keep our customers interested and excited, and that's how we address that.
Goose Island's owners sold their company to AB InBev in 2012. Do you think that's a good thing or a bad thing for the craft brewing sector?
Well, [former Goose Island owner] John Hall is, I think, turning 70 years old this year. His son wasn't interested in continuing on, and John didn't really have a solution, so he sold out. I think other people are going to do that. You know, Blue Point on Long Island just sold to Anheuser-Busch. That's going to happen, but I think it's a very tricky business for the big brewers. You know, they've lost almost 18 million barrels of production in the last five years, and the more they put their marketing dollars behind craft-like beers, the more they introduce mainstream beer drinkers to craft beer.
What do you think of Budweiser?
It was an incredible success story, you know? August Busch III took that company from a 20 percent market share of the U.S. market to 50 percent over a period of like 25 years. And if you're a brewer, you have to have respect that kind of success.
Before it's here, it's on the Bloomberg Terminal.
LEARN MORE