Boeing's Bigger Dreamliner Seen Imperiling 787's Profit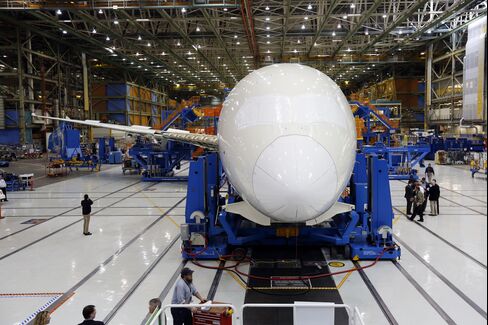 Boeing Co.'s stumbles in producing a new, longer 787 Dreamliner are reviving concerns that the world's largest planemaker isn't close to breaking even on its marquee jet.
As Boeing prepares to post first-quarter results tomorrow, a 2015 target to get the 787 into the black may be receding, said David Strauss, a New York-based analyst with UBS AG. He projects the Dreamliner program consumed $2 billion in cash in the period.
Costs rose and deliveries slowed when employees at Boeing's South Carolina factory couldn't finish work on center fuselage sections as the output tempo rose and 787-9 assembly began. Boeing hired contractors to help complete the components and routed parts shipments away from the plant so the backlog of unfinished pieces doesn't overwhelm storage space.
"Boeing has said it's going to get to cash-flow break-even by early next year, and I just can't see a path to get anywhere close to that," Strauss said by phone. "The program is going to continue to burn cash well into the future."
Delays have plagued the Dreamliner since development began last decade, leaving the 2011 debut for the initial model, the 787-8, more than three years late. The 787 is the first jetliner built chiefly of composite materials rather than the traditional aluminum and relies on more electricity than conventional jets. In 2013, meltdowns in the lithium-ion batteries grounded the global fleet.
Deliveries Due
Deliveries of the larger 787-9 are due to start by midyear, followed by an even bigger version, the -10, later this decade. With 899 unfilled orders, the Dreamliner is central to Boeing's efforts to convert a record backlog into a gusher of revenue.
Boeing will probably report negative free cash flow of $1.54 billion after building about 30 Dreamliners and only delivering 18 last quarter, said Carter Copeland, a Barclays Plc analyst. Boeing hasn't had negative free cash flow since 2011's first three months, based on data compiled by Bloomberg.
Cash consumption will be a focus even with Boeing likely to "handily" beat estimates, the New York-based Copeland said in an April 7 note. Analysts project profit excluding some items of $1.54 a share, based on the average of 19 estimates compiled by Bloomberg.
Analysts are watching the 787's deferred production cost, an accounting measure that is supposed to drop as the expense of building the plane declines with a projected improvement in efficiency. Boeing said last year that it estimated a ceiling of $25 billion, up from a previous forecast of $20 billion.
Gains Stop
"The disruptions and additional costs associated with introducing the 787-9 to the production process have brought cost reductions to a halt," Douglas Harned, a Sanford C. Bernstein & Co. analyst in New York, said in an April 17 note.
Doug Alder, a Boeing spokesman, declined to discuss the analysts' projections ahead of tomorrow's earnings release.
"The 787 program continues to make improvements to its overall production system to increase productivity and reduce costs," Alder said. "We anticipate continued improvement."
After more than doubling last year's gain in the Standard & Poor's 500 Index, Boeing has been a 2014 laggard as Dreamliner deliveries trailed the 10-a-month output target. The stock fell 0.1 percent yesterday to $127.82, pushing its 2014 decline to 6.4 percent against the S&P 500's 1.3 percent advance. Copeland rates Boeing as overweight and Harned's recommendation is outperform, while UBS's Strauss is neutral.
Two Factories
Boeing builds 787s in two locations: the company's main wide-body jet plant in Everett, Washington, and in South Carolina, at North Charleston. Workers at the South Carolina plant also knit together center fuselage sections from components from suppliers in Italy and Japan.
While much of the 787-9 is borrowed from the smaller -8, slight changes in the dimensions of parts can require different manufacturing techniques and challenge the relatively inexperienced workforce in South Carolina, said Hans Weber, president of Tecop International Inc., a San Diego-based aerospace consultant.
The 787's composite fuselage lacks the pliancy that lets workers "bash to fit" aluminum hulls, and engineering support on the assembly line was "really stretched thin," Weber said.
Strauss estimated that Boeing can break even on 787-8s from Everett by late this year or early 2015.
"The problem is, I think the -8 out of Charleston is going to burn cash and the -9 is going to burn cash," he said. "They'll eventually get there. But I think it's two years in the future beyond what they've forecast. I think it's 2017" for the whole program to be profitable.
McNerney's View
Chief Executive Officer Jim McNerney drew a distinction between the manufacturing missteps on the 787-9, whose test flights are on schedule, and the postponements that dogged the -8 version.
"This is not about a development program struggling," McNerney told a Cowen & Co. conference in New York on Feb. 5. The center fuselage is "the part of the airplane that is most different between 787-8 and the 787-9."
Boeing's South Carolina headcount grew by almost 1,000 since the end of December to 8,432 full- and part-time employees as of March 27, according to the company website.
Boeing has routed fuselage subsections from Alenia Aermacchi SpA, an Italy-based supplier, to Wichita, Kansas, rather than North Charleston, UBS's Strauss said. Those components, in temporary storage to avoid adding to the South Carolina logjam, amount to about $3 billion in inventory, Strauss said. Boeing's Alder said the storage was "a longstanding planned activity."
While Boeing's track record on reducing 787 production costs doesn't inspire confidence, "we continue to take the long view, believing that ultimately the 787 will be a very successful program," said Ken Herbert, a San Francisco-based analyst with Canaccord Genuity who rates Boeing a buy.