AT&T Falls as Phone Financing Plans Weigh on Profit Outlook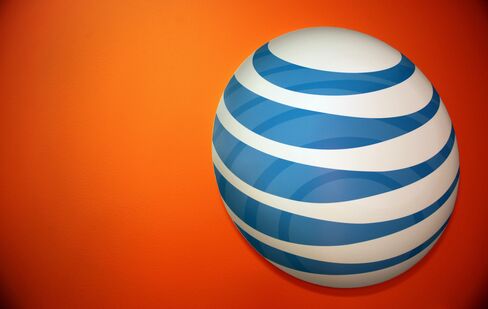 AT&T Inc. shares fell as more customers opted to pay full price for smartphones in exchange for lower bills in the future, putting pressure on profits.
Signups for AT&T's Next installment plans helped the company boost first-quarter earnings to 71 cents a share, leaving out some items. Analysts had estimated 70 cents on average, according to data compiled by Bloomberg. AT&T records the entire phone sale to Next customers upfront, rather than incurring expenses for selling phones below cost.
Customers who signed up for Next were rejecting AT&T's older model of offering discounts on smartphones in exchange for a two-year contract with higher fees. While the Next subscribers are padding AT&T's profits for now, the company won't be able to spread the revenue from those device sales over time, putting pressure on profits down the road.
"Better-than-expected overall results from AT&T Wireless won't turn investors into U.S. telecom bulls," said Kevin Roe, an analyst with Roe Equity Research in Dorset, Vermont. "The coming quarterly results will continue to be negatively impacted by the repricing of AT&T's installed base."
Although the company boosted its forecast for sales this year, it kept its projection for earnings growth at a "mid-single-digit" rate, compared with the average analyst estimate of 9 percent. Revenue will expand 4 percent in 2014, AT&T said, ahead of the average analyst estimate of 3 percent.
Shares Fall
AT&T shares fell 3.8 percent to $34.92 at the close in New York. The daily decline was the biggest since Feb. 3. The stock has slid 10 percent in the past 12 months, as the Standard & Poor's 500 Index gained 19 percent.
Price promotions helped AT&T add 625,000 monthly subscribers, up from 296,000 a year ago. The average estimate was 219,000, based on a survey of nine analysts. The gains show AT&T can hold its own even as competitive pressure rises, Chief Financial Officer John Stephens said in an interview.
"Customers want a quality network," he said. "We did real well in this very noisy environment. We had a new level of transparency and gave customers a lot of good choices. We feel good."
Monthly subscribers paid an average of $66.33 a month, up 0.4 percent from a year earlier and higher than the average analyst estimate of $65.90. If Next customers' smartphone installment payments were included in that figure, the monthly bill would have risen 2 percent from a year earlier, AT&T said.
While that would be a slowdown from 2.1 percent growth in the fourth quarter of 2013, it's faster than the growth rate in each of the four quarters prior to that.
Subsiding Rush
About 25 percent of wireless customers are now on plans without phone subsidies, Stephens said yesterday on a conference call. More than 40 percent of new smartphone subscriptions were on Next plans in the first quarter, a figure that will probably decline to 35 percent in the coming quarters as the initial rush subsides, Stephens said.
In Next plans, customers can choose to pay for their devices in installments of 20 or 26 months -- or in a single payment. Apple Inc.'s $650 iPhone 5s, for example, costs $32.50 a month on the 20-month plan. After as little as 12 months, customers can trade in their devices at no extra charge and start a new installment plan for a new smartphone.
The program had a sharp effect on device sales, which surged 52 percent from a year earlier to $2.48 billion. Wireless service revenue, meanwhile, gained 2.2 percent to $15.4 billion.
Aggressive Pricing
AT&T introduced Next in July, responding to T-Mobile US Inc.'s decision to get rid of contract plans altogether and offer installment payments for smartphones.
T-Mobile has also introduced more aggressive pricing, such as international text messaging at no additional cost and free data access for tablet buyers. And AT&T and T-Mobile have engaged in customer-poaching, with each offering buyouts to cover early-termination penalties for people that switch service.
T-Mobile, which reports results May 1, probably added about 1 million new monthly customers last quarter, according to an average estimate of nine analysts compiled by Bloomberg. That subscriber growth would be about double the estimated first-quarter gains of 512,000 by Verizon and 60 percent higher than AT&T's additions.
AT&T reported first-quarter net income of $3.65 billion, or 70 cents a share, compared with $3.7 billion, or 67 cents, a year earlier. Share repurchases helped increase per-share profit even as total net income fell.
Wireless-service profit margins were 45.4 percent, up from 43.2 percent a year ago. Analysts projected a wireless margin of 43.34 percent, based on an average of nine estimates compiled by Bloomberg.
In AT&T's landline video-and-broadband business, called U-verse, the company added 634,000 Internet users and 201,000 video subscribers. That was down from the 731,000 U-verse Internet customers and 232,000 TV customers added a year ago.