BOJ Recovery Picture at Odds With Cabinet Data: Chart of the Day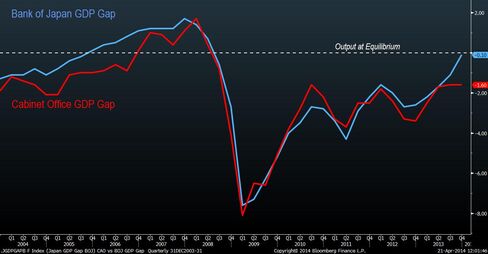 April 21 (Bloomberg) -- Central bank Governor Haruhiko Kuroda says one sign of Japan's recovery under Abenomics is that a gap between the nation's actual and potential growth rates has come close to "zero." A government gauge gives a less optimistic picture.
The CHART OF THE DAY compares indexes of how much the economy is picking up, one from the Bank of Japan and the other from the Cabinet Office. They both depict the so-called output gap, the difference between actual growth and the estimated level where an economy is neither under-performing nor starting to overheat.
While the BOJ's measure showed that the economy approached that level at year's end, the government index indicated a bigger shortfall. Kuroda last week cited the narrowing output gap as one of the reasons that he's confident in the outlook for wage and price gains after about 15 years of deflation.
"Kuroda appears to be too optimistic," said Naoki Iizuka, an economist at Citigroup Inc. in Tokyo. "It's extremely questionable if this output-gap data is pointing to solid inflation and wage growth," said Iizuka, adding that the central bank is likely to add to its already unprecedented easing in June or July.
The two gauges have different methodologies, with the BOJ's measure including data on the labor market and capital utilization. Iizuka said the output gap is always difficult to accurately estimate.
To contact the reporters on this story: James Mayger in Tokyo at jmayger@bloomberg.net; Toru Fujioka in Tokyo at tfujioka1@bloomberg.net
To contact the editors responsible for this story: Lee Miller at lmiller@bloomberg.net Paul Panckhurst at ppanckhurst@bloomberg.net James Mayger