Volvo Cars Predicts China to Become Its Largest Market in 2014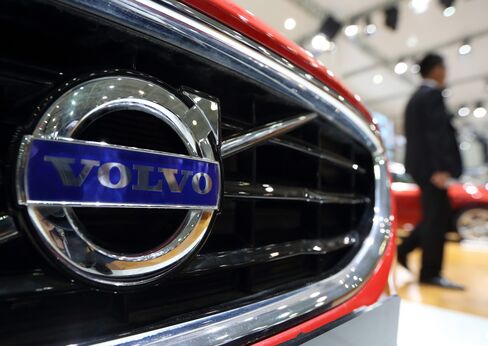 Volvo Car Group, the Swedish luxury carmaker owned by Zhejiang Geely Holding Group Co., said it expects China to surpass the U.S. as its largest market this year.
Volvo Cars will probably outpace the estimated 20 percent growth in China's luxury car sales this year and deliver at least 80,000 vehicles in the country, according to a statement by the carmaker. The company will also make the XC Classic, a China variant of the XC90 that will cease production in Sweden this year, at its plant in Daqing.
The carmaker, which built a reputation around safety and reliability, is in the midst of a four-year, 11 billion-euro ($15 billion) project to develop new models after Ford Motor Co. sold the company in 2010. The Gothenburg-based manufacturer plans to almost double deliveries to 800,000 vehicles by 2020. That compares to a goal by luxury-auto industry leader Bayerische Motoren Werke AG to sell 2 million cars this year.
The Swedish automaker, which is separate from truck producer Volvo AB, is displaying a plug-in hybrid version of the long-wheelbase S60 sedan at the Beijing show. The vehicle will go into production in 2015 at the company's plant in Chengdu, China, that started making the S60L late last year.
Volvo Cars is preparing to present a revamped XC90 sport-utility vehicle, its first model engineered under Chinese ownership, later this year. The SUV will feature a touch-screen display using Apple Inc.'s CarPlay communications system.
The Swedish manufacturer delivered 427,840 vehicles worldwide in 2013. In addition to rapid growth in China, Chief Executive Officer Hakan Samuelsson also has said he expects Volvo Cars' U.S. and European sales to rise in line with those markets in 2014.
First-quarter sales increased 9.5 percent from a year earlier to 108,170 vehicles, pushed by a 25 percent jump in China. March deliveries gained 18 percent in a ninth consecutive month of growth.
Operating profit last year surged to 1.92 billion kronor ($292 million) from 66 million kronor in 2012 as sales in China leaped 46 percent and a reduction in operating costs more than made up for losses in the first half. Even so, revenue fell 1.8 percent to 122.2 billion kronor, while deliveries rose 1.4 percent. The operating margin at 1.6 percent of revenue was short of BMW's 9.4 percent.
Volvo will increase research and development spending to more than 6 percent of revenue this year after the figure slipped to 4.8 percent in 2013 amid the carmaker's moves to return to profit. To focus development, Volvo will only offer four-cylinder engines in the future, with an additional boost provided by hybrid systems, Samuelsson said in March. The electric motors will give vehicles as much as 400 horsepower and power the rear wheels to offer four-wheel drive.
The manufacturer has teamed up with parent Geely to develop a platform for small cars that will be marketed in about three to four years.
Before it's here, it's on the Bloomberg Terminal.
LEARN MORE