The Bond Market Loses Its Balance
A handful of money managers controls trillions of dollars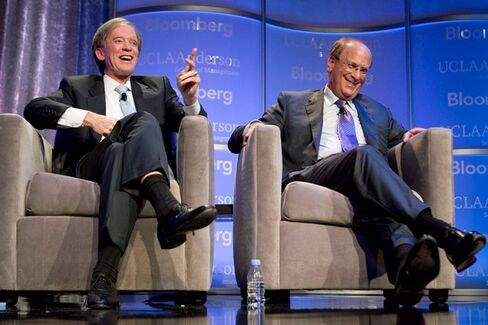 The bond market has become the land of the giants. Bill Gross and Larry Fink manage bond portfolios worth $3 trillion combined. The companies they run, Pimco and BlackRock, doubled their holdings since 2008, outpacing the market's growth of 50 percent. Pimco, Vanguard Group, and Fidelity Investments manage 39 percent of all mutual fund-owned taxable bonds, up from 18 percent in 1997, according to Morningstar data.
Hedge funds have also bulked up on bonds. Bridgewater Associates' All Weather Strategy fund, which emphasizes debt-related investments, has quadrupled since the end of 2009, to about $80 billion in assets, according to data compiled by Bloomberg. BlueCrest Capital Management, which focuses on trading debt, has grown to about $32 billion in assets since its 2000 inception. "When it comes to fixed-income management, there is an oligarchy," says Robert Smith, chief investment officer at money manager Sage Advisory Services in Austin, Tex. "That can be good, and that can be bad. It's bad when you have a market that's feeling like it's weak and not doing well and selling off."
Wall Street banks, facing rules that put limits on borrowing and require them to hold more cash, are shrinking their stakes in bonds. As of March 2013, 21 banks that deal directly with the Federal Reserve had slashed their holdings of corporate bonds to $56 billion, from $235 billion in 2007, according to New York Fed data. The reduced role of Wall Street banks leaves the bond market more vulnerable to ripple effects from the actions of the behemoth managers.
The lopsided bond market has caught the attention of regulators. The Securities and Exchange Commission is concerned about what will happen when the Fed begins raising short-term rates and investors seek to sell their bonds. (Bond prices fall when interest rates rise.) The Financial Industry Regulatory Authority is examining whether Wall Street firms overcharge investors and unfairly allocate new corporate debt issues to reward certain clients, according to Nancy Condon, a spokeswoman. In this two-tiered market, brokers choose which rivals and clients may see their bond prices on electronic trading systems by turning quotes on and off.
The SEC is trying to gauge the extent to which smaller buyers are disadvantaged and whether the behavior constitutes market manipulation, according to two people with direct knowledge of the matter who asked not to be identified because the probe hasn't been made public. "For the do-it-yourselfer, the disadvantages are growing by leaps and bounds," says Marilyn Cohen, founder of Envision Capital Management, which manages $315 million of corporate and municipal bonds. "There's a smaller and smaller market for money managers that aren't the size of BlackRock and Pimco."
"With the bond market, you want to be big," says Michael Rawson, an analyst at Morningstar in Chicago. "If you're too small, it's hard to get a decent allocation and good pricing." Companies that hold more assets can cut expenses by having many funds rely on the same people to trade, analyze, and process bonds. "That's the reason the big managers are getting bigger—they can basically do the same thing for a lower cost," says Andrew McCollum, a managing director at Greenwich Associates. BlackRock oversees $1.2 trillion of debt, compared with $483.2 billion in December 2008, according to the company's financial filings. Pimco manages $1.9 trillion in assets, with more than 90 percent in bond-related funds, vs. $960 billion in assets five years ago.
Just because an investment firm is big doesn't mean it poses more risk, according to BlackRock. In an April 4 letter to the Financial Stability Board, an international body set up after the credit crisis, BlackRock said that rather than focusing on size when assessing threats to the financial system, regulators should look at how much borrowed money a fund uses. BlackRock said it uses very little leverage in its funds. "The fact that some firms have gotten larger and some firms have gotten smaller, I'm not sure that's relevant" to how the market functions, says Richard Prager, head of trading and liquidity strategies at BlackRock. Representatives of Pimco, Bridgewater, and BlueCrest declined to comment.
Size comes at a cost—the bigger funds are not always nimble in a crisis. Over the past year, Pimco's $232 billion Total Return Fund had the second-worst return among 16 U.S. intermediate-term funds with at least $5 billion in assets, according to Bloomberg data. Investors pulled a net $8.3 billion from the fund in the first three months of 2014.
The concentration of so many bonds in so few hands heightens the risk of a stampede to the exits when interest rates start to rise. Analysts surveyed by Bloomberg predict the yield on the 10-year Treasury note will climb to 3.33 percent at yearend and to 3.6 percent in the first half of 2015, from 2.62 percent on April 11. "It's going to be interesting to see who'll take the other side of the trade if there's a meaningful selloff," says Arthur Tetyevsky, a strategist at investment bank Imperial Capital. "We're much closer to the end of the rally, that's for sure."
Before it's here, it's on the Bloomberg Terminal.
LEARN MORE