Rajat Gupta Agrees to Surrender to Prison on June 17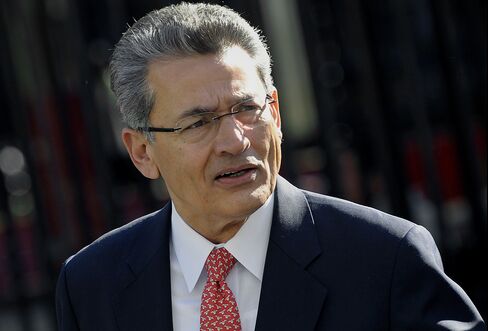 April 17 (Bloomberg) -- Rajat Gupta, the former Goldman Sachs Group Inc. director convicted in a 2012 insider trading scheme tied to the Galleon Group LLC hedge fund, agreed to surrender to prison authorities on June 17 to begin a two-year sentence, a federal judge in Manhattan said.
Gupta, 65, lost a bid for a new trial last month, when a three-judge appeals panel upheld his conviction. U.S. District Judge Jed Rakoff said in an order made public today that Gupta and prosecutors consented to the surrender date.
Gupta is the highest profile executive convicted since federal authorities in New York began a nationwide crackdown on insider trading at hedge funds in 2007. He was permitted to remain free on bail as he fought his appeal.
At Gupta's sentencing, Rakoff agreed to recommend that he serve his sentence at the federal prison in Otisville, New York. The Federal Bureau of Prisons is not required to follow the recommendation.
A jury in Manhattan federal court convicted Gupta of passing confidential tips to billionaire hedge-fund manager Raj Rajaratnam, the co-founder of Galleon, about Berkshire Hathaway Inc.'s $5 billion investment in Goldman Sachs as well as nonpublic details about the bank's financial results for the second and fourth quarters of 2008.
Gupta's lawyer, Gary Naftalis, declined to comment on Rakoff's order.
Seeking Reconsideration
In the appeal, Gupta's lawyers argued unsuccessfully that Rakoff made an error in the trial when he admitted statements of a co-conspirator recorded in wiretapped telephone conversations in which Gupta wasn't a participant. Gupta has asked the full New York federal appeals court to reconsider the case.
The office of Manhattan U.S. Attorney Preet Bharara has won convictions against 80 people and four entities -- all of them units of SAC Capital Advisors LP -- in its investigation of fund managers, company insiders and expert-networking firms.
Most of the convictions came through guilty pleas. No one charged in the probe has been acquitted of insider trading.
The case is U.S. v. Gupta, 11-cr-00907, U.S. District Court, Southern District of New York (Manhattan).
To contact the reporter on this story: Bob Van Voris in federal court in Manhattan at rvanvoris@bloomberg.net
To contact the editors responsible for this story: Joe Schneider at jschneider5@bloomberg.net David E. Rovella