Putin Calls Obama 'Brave Man,' Touts Shared Goals With U.S.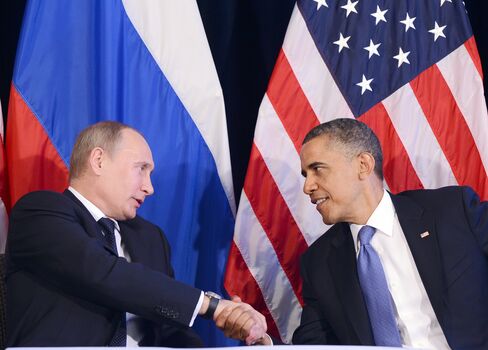 April 17 (Bloomberg) -- Russian President Vladimir Putin said he believes U.S. President Barack Obama is a "decent and brave man" who would save him from drowning, even as the two leaders failed to form "very close" personal relationship.
The two countries share interests on nuclear non-proliferation, terrorism and the world economy, with Russia having no plans to re-create an Iron Curtain, "a Soviet invention," Putin said today during his annual televised call-in show in Moscow.
The top diplomats from the U.S., the European Union, Ukraine and Russia are meeting in Geneva today as America and its allies accuse the government in Moscow of stoking unrest in Ukraine after annexing Crimea last month, threatening to ratchet up sanctions in the worst standoff between the former Cold War enemies. Tougher U.S. sanctions against Russia would be counterproductive as the world isn't unipolar, Putin said.
"Everything in the world is very interdependent," Putin said. "So when one tries to punish someone, like a naughty child, have them kneel on peas so it would hurt -- in the end they will saw off the branch they're sitting on, and at some point, they will of course understand this."
Ties between the U.S. and Russia have soured since Putin reclaimed the presidency two years ago. Efforts to improve relations under Obama's "reset" policy were spearheaded by Putin's predecessor and now prime minister, Dmitry Medvedev.
Stirring Tensions
Putin's government was supporting "at minimum, non-state militias" in its neighbor and his decisions were "not just bad for Ukraine, over the long term, they're going to be bad for Russia," Obama said in an interview with CBS News aired yesterday and today.
An American administration official warned yesterday that if the Geneva talks fail, the U.S. is ready to take further steps, targeting people in the Russian president's inner circle and entities they oversee. Industry-specific sanctions are also an option, according to the official, who spoke about private talks on condition of anonymity.
Obama said last August the two leaders "don't have a bad personal" relationship, describing his conversations with Putin as "candid," "blunt" and "oftentimes constructive."
"I know the press likes to focus on body language and he's got that kind of slouch, looking like the bored kid in the back of the classroom," Obama told journalists Aug. 9. "But the truth is, is that when we're in conversations together, oftentimes it's very productive."
Putin said today he doesn't view relations with the U.S. as a "sporting competition", adding that the countries are "partners" and there's no need to "keep a score."
To contact the reporters on this story: Ilya Arkhipov in Moscow at iarkhipov@bloomberg.net; Vladimir Kuznetsov in Moscow at vkuznetsov2@bloomberg.net; Ott Ummelas in Tallinn at oummelas@bloomberg.net
To contact the editors responsible for this story: Balazs Penz at bpenz@bloomberg.net Paul Abelsky