No Sign of MH370 as Submarine Completes Fourth Dive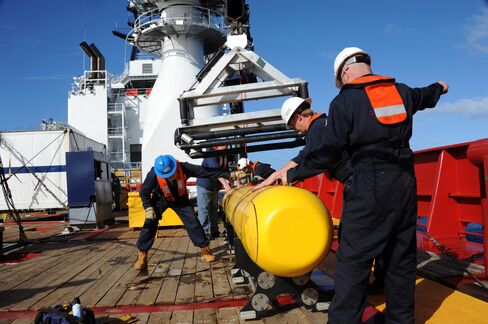 An unmanned submarine hunting for the missing Malaysian Air jet completed its fourth dive yesterday without finding any signs of the aircraft, according to the company operating the device.
The Bluefin-21 has covered about 120 square kilometers (46 square miles) of ocean floor in depths down to 4,700 meters (15,400 feet), Jim Gibson, general manager of Phoenix International Holdings Inc., the company performing the search under contract to the U.S. Navy, said an an e-mail.
"There has been no debris or aircraft wreckage discovered on any of the four dives to date," Gibson said.
At 42 days, the hunt for Flight 370, which disappeared March 8 with 239 people on board, is the longest search for a missing passenger jet in modern aviation history. As many as 11 military aircraft and 12 ships will continue to comb the Indian Ocean off western Australia for signs of debris today, while the submarine carries out its fifth mission, Australia's Joint Agency Coordination Centre said by e-mail.
The Bluefin-21, which uses side-scan sonar to capture images of the ocean bottom, is pivotal to the search with the batteries in the aircraft's black boxes now probably dead.
The crash-proof recorders are crucial to determining why the Malaysian Airline System Bhd. jet vanished en route to Beijing from Kuala Lumpur, reversing course and flying into some of the world's most remote ocean waters. No audio pulses from the black boxes have been detected since April 8.
Sound Waves
The submarine's sonar bounces sound waves off the seafloor to create images of terrain. It's supposed to be deployed for 24 hours at a time.
Its first foray was cut short after a built-in safety feature forced it to return to the surface after it dived deeper than its operating limit of 4,500 meters. The second dive was interrupted by a minor battery malfunction, according to Gibson.
The software on the sub was adjusted to allow it to go deeper, according to the JACC.
The underwater search has been "significantly narrowed," with the use of acoustic analysis, creating a "more focused" area, JACC said yesterday. The U.S. Navy's initial assessment that it would take Bluefin-21 as much as two months to scan the area was no longer accurate, the agency said.
"The search will always continue," Malaysia's Acting Transport Minister Hishammuddin Hussein told reporters in Kuala Lumpur yesterday. "It's just a matter of approach."
Data retrieved so far from the submarine haven't revealed any significant objects. Analysis of an oil slick found over the weekend in the current search area showed the substance didn't come from an aircraft engine or hydraulic fluid, the JACC said.