Co-Operative Posts Loss on Former Bank Unit, Somerfield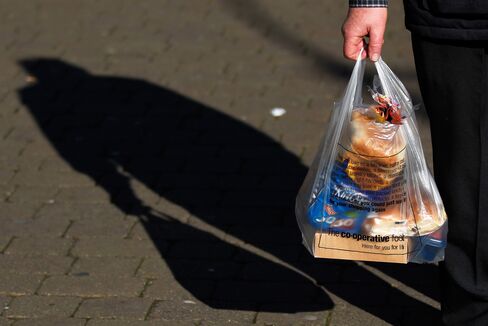 Co-Operative Group Ltd. lost 2.5 billion pounds ($4.2 billion) in 2013 after a bailout of its former banking unit spurred the worst crisis in the 150-year history of the customer-owned British retailer.
The bank had 1.4 billion of losses before Co-Op Group was forced to relinquish control of it last year, while the sale itself spurred another 625 million pounds of losses, the Manchester, England-based company said in a statement today. The full-year loss increased almost five-fold from 529 million pounds in 2012.
Co-Op Group is considering selling its farms and pharmacy business as part of a plan to turn around the company that interim Chief Executive Officer Richard Pennycook said will take at least four years. Paul Myners, a former U.K. Treasury minister, is stepping down as a director next month after his review said Co-Op Group must take "urgent steps'' to overhaul governance or risk running out of capital.
"2013 was a disastrous year for The Co-Operative Group, the worst in our 150-year history," Pennycook said in the statement. "These results should serve as a wake-up call to anyone who doubts just how serious the challenges we face are."
Co-Op Group, whose units range from supermarkets to funeral parlors, agreed to cede majority ownership of Co-Operative Bank Ltd. as part of a plan to plug a 1.5 billion-pound hole in the lender's capital, eroded by souring loans, customer compensation, restructuring and other costs. The bank said in March it would need to raise 400 million pounds of additional capital to meet regulatory requirements.
Resignations
A 226 million-pound writedown of the value of supermarket chain Somerfield, acquired in 2009 for 1.57 billion pounds, also contributed to the company's loss last year.
Former CEO Euan Sutherland quit in March after publicly complaining that details of his pay and internal management discussions may have been leaked to the media by a board member. Former Co-Op Group Chairman Len Wardle had already resigned in November after leading the board that appointed Paul Flowers as chairman of the lending unit.
Flowers, who told a Treasury committee hearing in November that he didn't have the skills of a banker, was charged yesterday with possession of cocaine and crystal methamphetamine after being arrested in November.
The "unprecedented nature of our crisis" has led to inquiries from the U.K.'s Financial Conduct Authority, the Treasury, Parliament and police, Co-Op Group said in its statement today.
The company, which abandoned a plan to buy about 630 branches from Lloyds Banking Group Plc last year as the capital hole was revealed, was damaged by "acute systemic weakness" in its governance, Myners wrote in his report. He said Co-Op should elect directors annually and create a board with an independent chairman, six to seven non-executives and two executives.
The plan to fix Co-Op Group hinges on reducing its "bloated" costs, with the company targeting 100 million of expense savings by the end of 2014. Pennycook said today that "much more" is required.