Ukraine Says Russia Exports Terror as Offensive Stalls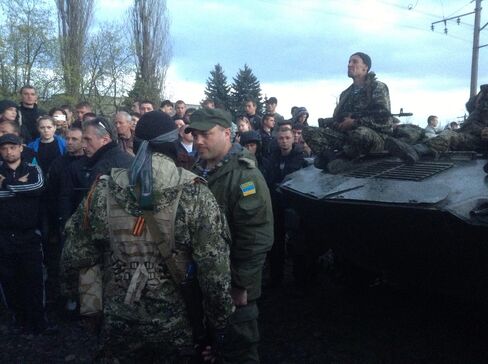 Ukraine accused Russia of fueling terrorism in its eastern regions as a move against separatists in the town of Kramatorsk stalled on the eve of an international conference aimed at defusing the crisis.
Ukrainian government troops attempted to press on with an anti-separatist offensive that freed an airfield near Kramatorsk yesterday. Authorities sent armored vehicles into the Donetsk region town, only to have some of them seized by pro-Russian activists who also disarmed a number of soldiers.
"Russia has a new commodity for export in addition to oil and gas -- terrorism," Prime Minister Arseniy Yatsenyuk told a government meeting today in Kiev. "It's become clear our Russian neighbors have decided to build a new Berlin Wall and want a return to the Cold War."
U.S. President Barack Obama joined Yatsenyuk in blaming Russia, saying in an interview with CBS News that Vladimir Putin's government has "supported, at minimum, non-state militias in southern and eastern Ukraine."
The airport operation marked Ukraine's first foray against armed activists holding official buildings in cities near the Russian border. Efforts to contain the insurgency risk escalating tensions with Russia, which denies involvement in the unrest and has warned of a potential civil war. NATO says Russia has 40,000 troops massed on Ukraine's border after its annexation of Crimea last month.
Geneva Meeting
With tensions running high, envoys from Ukraine, Russia, the U.S. and European Union are scheduled to hold talks tomorrow in Geneva. Ukraine's parliament today rejected a Russian call to send representatives of its eastern regions to the negotiations.
The U.S. and its European allies are threatening a new round of penalties against Russian interests unless Russia demonstrates it will pull back from confrontation in Ukraine.
"Talk doesn't replace actions when it comes to what's happening on the ground," Marie Harf, a State Department spokeswoman, said today in Washington. "We will continue to prepare, as we've said, additional sanctions and other steps if we can't get some de-escalation here."
White House press secretary Jay Carney told reporters in Washington the U.S. is "actively preparing new sanctions."
In the CBS interview Obama didn't specify how far the U.S. and EU would go in trying to squeeze the Russian economy or what would trigger more sanctions.
Vehicle Seized
In Ukraine, the Defense Ministry said on its Facebook page that six armored personnel carriers that entered Kramatorsk this morning were seized by "extremists" and moved to Slovyansk, 15 kilometers (9 miles) away.
Five of the vehicles in the center of Slovyansk this afternoon were surrounded by local residents, some of them children, taking photographs, as well as by masked men in camouflage with guns.
As evening fell in Kramatorsk, another convoy of 15 Ukrainian armored vehicles was being disarmed amid a crowd of separatist activists.
"The guys don't want any escalation," one of the activist leaders, Vadim Chernyakov, told reporters. "They had an order to come to Kramatorsk. They should be praised for the fact that they didn't use weapons against the people."
The U.S. and the EU will use the talks in Geneva to assess whether Russia is genuinely interested in reducing the tensions in Ukraine, according to a U.S. State Department official who asked not to be identified discussing the diplomatic negotiations.
Decentralizing Power
The U.S., the EU and Ukraine will make the case that Russian concerns about decentralizing power in Ukraine and protecting the rights of Russian speakers in the country can be addressed constitutionally, according to the official, who said Ukraine would outline its plans for May 25 elections.
In the meantime, preparatory work is at an "advanced stage" on economic sanctions against Russia, Maja Kocijancic, a spokeswoman for the European Union's foreign-affairs chief, Catherine Ashton, told reporters today in Brussels.
The European Commission today gave ambassadors of the bloc's 28 countries details of the potential impact on their economies of possible broader sanctions and gave them a week to respond, according to an EU official who spoke on condition of anonymity.
Visa bans and asset freezes imposed on individuals by the U.S. and EU have already had an impact. Russia's Micex Index of equities has lost 12.1 percent this year, though it rose 0.9 percent today.
Sanctions' Impact
The unrest has also hurt Ukrainian asset prices. The hryvnia is this year's world's worst performer against the dollar among more than 100 currencies tracked by Bloomberg with a 27 percent loss. It surged for a second day today after an emergency interest-rate increase, gaining 5.3 percent to 11.3 per dollar.
A delegation of U.S. lawmakers will meet with Ukrainian leaders in Kiev next week. The bipartisan group of eight will talk with Ukrainian presidential candidates, nongovernmental organizations and "representatives of ethnic and religious minority communities," the House Foreign Affairs panel said in a statement outlining the trip.
The committee's chairman, Republican Representative Ed Royce of California, said lawmakers will "take a measure" of U.S. efforts to help Ukraine maintain its sovereignty.
NATO Defenses
As nearby countries such as the Baltic nations fret about security, the North Atlantic Treaty Organization vowed to beef up defenses and upgrade contingency plans.
"We will have more planes in the air, more ships on the water and more readiness on the land," Secretary General Anders Fogh Rasmussen said today in Brussels after the 28 NATO allies approved the changes.
Obama said NATO will stand by its member countries and that Putin understands that U.S. and NATO forces are "significantly superior" to Russia's.
"They're not interested ina military confrontation with us," he said.
NATO stopped short of setting up permanent bases in eastern Europe, an idea that caused discomfort in Germany in particular. Instead, the alliance decided to step up training of eastern forces and conduct more military maneuvers in the region.
The alliance's top military commander, U.S. Air Force General Philip Breedlove, said there's been no reduction in Russian forces near the frontier with Ukraine, which remain in a "very high" state of readiness.
Emergency Meeting
"It is either a very large coercive force or it is a force as capable and able of crossing the border accomplishing the objectives it might be given," he told reporters at NATO headquarters in the Belgian capital.
In the eastern city of Donetsk, an emergency meeting of the Party of Regions urged separatists to lay down their arms, the Interfax news service reported. The party, which backed Ukraine's ousted pro-Russian president, Viktor Yanukovych, called for greater budgetary autonomy for the regions, direct elections of governors, and for Russian to be the second official language. The meeting didn't support Russian calls for a federal Ukraine, Interfax said.
There are at least 450 Russian soldiers without army insignia in the Donetsk region, according to Vasyl Krutov, head of the anti-terrorist center of Ukraine's SBU security service, the Interfax news service said today.
Russian Presence
On Ukraine's western border, Moldova's breakaway Transnistria region appealed to Putin to recognize it as independent.
"Transnistria is a Russian-language land, more than 90 percent of Transnistrians speak and think in Russian," the region's parliament said in a statement on its website.
Russia has maintained troops in Transnistria since a 1992 military conflict with Moldova as part of a peace-keeping force that includes Moldovans, Transnistrian militants and Ukrainian military observers.
While Russia denies it's behind the separatism in Ukraine, Defense Minister Anatoly Antonov responded to U.S. and European complaints over the troop buildup near Ukraine's border by saying the army is free to do what it wants at home.
"All these horror stories that Russia is hanging over Ukraine today, and tomorrow, Russia, as some politicians said, will almost reach the English Channel, or Bordeaux, or maybe the Cote d'Azur -- all this is nonsense," he told state television.
Putin will give his assessment of U.S. and European sanctions in his annual televised phone-in tomorrow, his spokesman, Dmitry Peskov, said on Rossiya 24 television.
Russia's Foreign Ministry said in a statement that the U.S. should "take into account the catastrophic consequences of such reckless support" for the Ukrainian government.
Before it's here, it's on the Bloomberg Terminal.
LEARN MORE