The New Floor for an NBA Franchise: $550 Million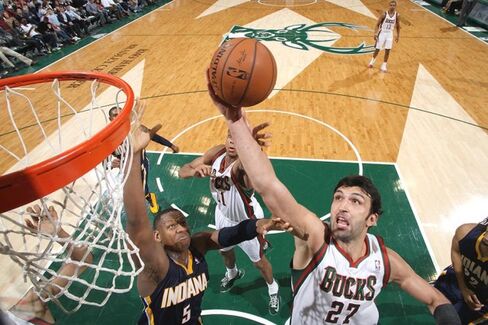 The Milwaukee Bucks are about to be sold for $550 million. Herb Kohl, the former U.S. senator who bought the franchise for $18 million in 1985, is selling to private equity fund managers Wesley Edens of Fortress Investment and Marc Lasry of Avenue Capital Group. The deal would set a new record price for an NBA team, topping the the $534 million that Vivek Ranadive and his group paid for the Sacramento Kings last year.
The sale should bring a smile to the face of new NBA Commissioner Adam Silver and the league's other owners. Edens and Lasry are paying a record price for the least-valuable asset in the league. With one game left to play, the Bucks have won just 15 games and sport the league's worst record. They claim the lowest average NBA attendance, at 13,496 per game, and play in the 34th biggest (pdf) TV market in the U.S. Forbes's most-recent ranking placed the Bucks dead last in franchise value, at $405 million.
Edens and Lasry are not known to be fools. Half a billion dollars may seem like a lot for a rundown Milwaukee entertainment business, but it's not bad for a share in a global media property with an enterprise value of roughly $20 billion. (That's the number former commissioner David Stern gave me on his way out the door.) Even the saddest NBA team gets to host a rotating cast of celebrities, including LeBron James and Kevin Durant, every year and to share in a pot of $5.5 billion in revenue. When Ranadive bought the Kings, according to Silver, he saw the team as a bargain, because he was getting 1/30th of the NBA's global prospects. The same logic is driving the Milwaukee sale. And with the league set to negotiate what are sure to be record-breaking national TV contracts, it makes sense.
Before it's here, it's on the Bloomberg Terminal.
LEARN MORE