Modi Says He Deserves Death If Any 2002 Riot Allegations True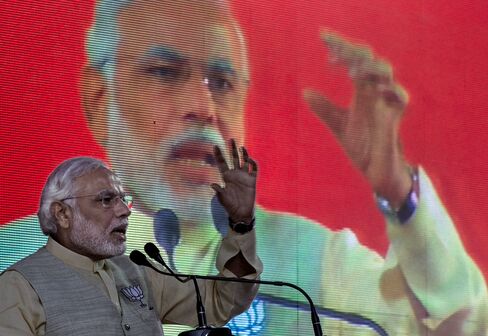 April 17 (Bloomberg) -- Narendra Modi, the frontrunner to become India's next prime minister, said he deserves the death penalty if any allegations about his involvement in sectarian riots that took place 12 years ago are proven true.
"If there's any truth to the allegations, I should be made to stand in the crossroads and hung," Modi, prime ministerial candidate for the opposition Bharatiya Janata Party, said in an interview with ANI News broadcast yesterday. An apology would serve no purpose because "it isn't the right way" to deal with such an issue, he said.
Modi, who has ruled the western Gujarat state for the last 13 years, has been criticized by opponents for failing to control riots in the state in 2002 that killed more than 1,000 people, most of them Muslims. In the current election campaign, he has focused on how he will spur India's economy, helping in part to neutralize the issue.
"I have said what I had to say, and now I am in the people's court, and I am waiting to hear from them," Modi, 63, said in the interview broadcast on several Indian television channels. "I don't want to waste time going into allegations, and want to focus on the development agenda."
When asked about India's nuclear-weapons policy, Modi said he would continue the course set by the last BJP-led government, which conducted atomic tests in 1998. He said he would stick to India's existing policy of not being the first to use nuclear weapons in an armed conflict. Neighbor Pakistan also has nuclear weapons.
Election Campaign
Several opinion polls have projected the coalition led by the BJP will win the general election for the 543-seat lower house of India's parliament. For the first time, a poll earlier this week found that the coalition may win an outright majority.
India's elections, the world's biggest-ever exercise in democracy, began on April 7 and will end on May 12 after nine phases of voting. Counting will take place on May 16.
Modi, a former activist in the Hindu nationalist group Rashtriya Swayamsevak Sangh, has promoted his image as a magnet for investment and a record of stronger-than-average growth in Gujarat, where he's been chief minister since 2001. The state has attracted investment from companies such as Reliance Industries Ltd., Ford Motor Co. and billionaire Gautam Adani's Adani Enterprises.
Modi has been attacked by opponents for failing to control a pogrom in Gujarat that took place over three days starting Feb. 27, 2002. After Muslims set fire to a train, killing Hindu activists, ensuing riots killed about 1,100 people, mostly Muslims, according to a government report by Justice G.T. Nanavati and Justice Akshay Mehta.
Human rights groups including the Concerned Citizens Tribunal say Modi failed to control the mob. Modi denies wrongdoing and a panel appointed by India's Supreme Court in 2012 found no evidence that his decisions prevented victims from receiving help.
Modi said yesterday that he has repeatedly come clean on questions about the incident, and that the allegations are being fanned by people who have failed to defeat him in polls.
To contact the reporter on this story: Adi Narayan in Mumbai at anarayan8@bloomberg.net
To contact the editors responsible for this story: Stephanie Wong at swong139@bloomberg.net; Daniel Ten Kate at dtenkate@bloomberg.net Dick Schumacher