Bitcoin Miner Taps Dad's Power Plant in Virtual Money Hunt: Tech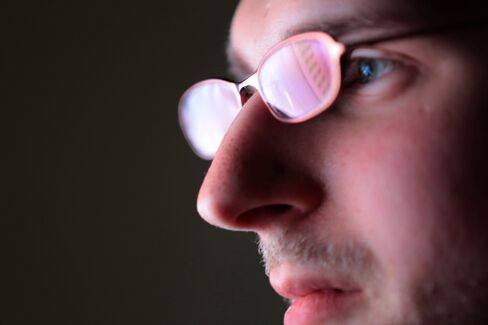 In the five years since bitcoin was created, the hunt for them has consumed enough electricity to keep the Eiffel Tower lit for 260 years. One man's way around the utility bills: the family power plant.
Alex Wilhelm is a bitcoin miner, one of thousands who use computers to solve complex math problems and get their hands on the digital currency. The expatriate living in Tokyo has 30 remote-controlled servers mining virtual gold in an old brick building in the Austrian countryside. His father is donating the electricity, which comes from a water-driven turbine that survived a World War II bombing raid and once powered the entire village of Tattendorf, where Wilhelm grew up.
While the operation is modest as mining farms go -- this year's yield may total no more than $12,500 -- it illustrates a basic point: the race to uncover cyber cash has become so energy intensive that power bills now make it mostly unprofitable.
"Basically you're turning electricity into money," Wilhelm said, sitting in jeans and a red sweatshirt in front of a flat-screen monitor in his Tokyo study. "If the electricity price goes up the math stops working."
The 30-year-old software engineer turned to his computer and with a few keystrokes launched a tour of his mine halfway around the world. A video feed showed rows of circuit boards hanging like bats from metal racks inside a cavernous stone room where he used to play as a kid.
At first, there was no sign of how hard the machines were working. Then he switched on the volume. Fans to cool the computers were so loud it was like being under a waterfall.
"You can imagine if you have something like this at home, your wife won't be very happy," he said. "It's just loud and it's hot and it's expensive."
Globe Trot
That's the reason bitcoin miners are scouring the globe for the cheapest power prices.
Consider Moses Lake, Washington, a quiet town in the Pacific Northwest with more cows than people. With the second-lowest electricity rates in the U.S., after Minot, North Dakota, it may become a bitcoin mecca.
Robert Van Kirk is planning a move there. At 1.7 cents per kilowatt hour, rates are less than one-fifth the 10-cent national average. They're also below the 5 cents Van Kirk and partner Damir Kalinkin now pay in Portland for their business, MyRigSpace LLC, hosting mining gear in an old server farm.
The partners aren't the only ones to zero-in on Moses Lake's rates.
"I called a real estate agent and I told them, we need a location with a lot of electricity," 24-year-old Van Kirk recounted in a phone conversation. "He said to me, 'Oh are you guys involved in bitcoin?' And I was like, 'Oh wow.'"
Bitcoin Bottleneck
Power consumption has always been bitcoin's bottleneck, says cryptographer Philipp Gühring. By one estimate, mining has gobbled up more than 150,000 megawatt hours of electricity since the cyber currency was invented. That's a year's worth of electricity for about 14,000 average U.S. homes, or more than two centuries for the Eiffel Tower.
"Yes, you need the hardware and you need the software, but electricity is the core thing that drives bitcoin," Gühring, who co-wrote a 2011 paper on energy's role in virtual mining, said by phone from Vienna. "It's going to gravitate to wherever electricity is cheapest."
Hence Tattendorf or Moses Lake, or Iceland, where a few wily entrepreneurs are tapping cheap geothermal power from volcanoes to drive one of the world's biggest mining farms.
Math Quiz
When bitcoin was created in 2009, by a programmer or group under the name Satoshi Nakamoto, it was intended to be finite, like a precious metal that has to be dug out of the ground. That helped the term "mining" take hold, but it's a misnomer.
It's more like a cross between a math quiz and a lottery held six times every hour. People like Wilhelm race with their computers to solve puzzles and reap some of the 25 bitcoins spat out every 10 minutes by Nakamoto's algorithm. The more machines you have -- think of them as tickets - the better your chances are of winning.
Bitcoin transactions run through a massive public ledger, open to anyone with the right software. Miners use their machines as accountants would, to tally and check all the bitcoins changing hands around the world. The first to do the math gets the reward.
Never has bookkeeping been so alluring.
Black Hole
Bitcoin prices shot up to more than $1,100 last year from about $13. The currency took hits in the last few months though, after China banned banks from dealing in it and the U.S. government decided to tax it. Another blow came when about $500 million in bitcoins disappeared from one of the biggest exchanges, Tokyo-based Mt.Gox, which then went bankrupt. The coins trade at $522 today, according to the CoinDesk Bitcoin Price Index, an average from major global exchanges.
Even some of bitcoin's fans say it's turned into a wasteful arms race. In a blog post widely circulated on Twitter last month, technologist Fred Trotter said mining has become a "black hole of resources."
"The network would operate just fine with only 1 percent of the current computing muscle devoted to it," Trotter, a software developer and health-care consultant, said by phone from Denver. "It's consuming resources that should be allocated differently."
Back in Tokyo, Wilhelm pulled up Coinwarz.com, a bitcoin calculator, to show why he'd never use local power. Electricity here, in one of the world's most expensive markets, sells for 15 times the rate in Moses Lake. If he were running his 10 kilowatt operation in Tokyo, he figures he'd lose about $13 a day after the $67 power bill.
Bitcoin's Value
Wilhelm ended his virtual tour by calling his father on Skype. After a few glitches, a bear of a man appeared on screen and flashed the thumbs-up sign. For him, bitcoin's value is mostly sentimental.
The 60-year-old retiree is worried the expiration of subsidies in 2016 will force them to shut the plant, an heirloom that's been in the family for six or seven generations. If the bitcoin experiment works, and they expand, it could be a way out.
"It all depends on the value of bitcoin," the younger Wilhelm said. "If you're mining at this stage, you're not doing it to make dollars, you're doing it because you believe it will go up."
Before it's here, it's on the Bloomberg Terminal.
LEARN MORE