Allianz Enlists Automakers in Car Insurance Profit Revamp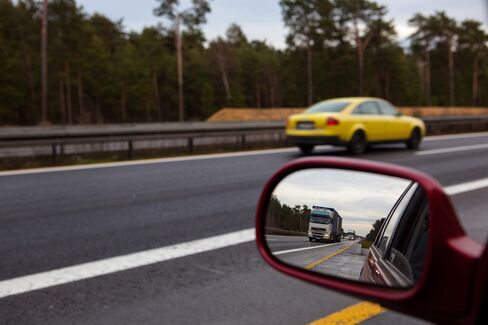 Allianz SE, Europe's biggest insurer, is counting on global carmakers to help it reclaim market share in its home country and give it a jump on competitors with a more local presence.
The company aims for a 30 percent increase in sales through partnerships with manufacturers including Ford Motor Co., Volkswagen AG and Bayerische Motoren Werke AG over the next three years, said Karsten Crede, chief executive officer of Allianz's Global Automotive unit.
"We are growing at 13 percent to 14 percent a year and have increased gross premiums written to 2.7 billion euros ($3.7 billion) in 2013 from 1.3 billion euros in 2010," Crede said in an interview in Munich on April 9. The unit targets premiums of 3.5 billion euros by 2016, he said.
Germany, Europe's largest auto insurance market, has been unprofitable for carriers since they intensified price cuts to win business in 2005. In 2010, Allianz lost the top spot among German car insurers to the smaller HUK-Coburg Holding AG, which focuses on Germany and can offer cheaper rates due to lower costs. As a result, Allianz is seeking out alternative ways to distribute its products.
Although German car insurance price rises resumed three years ago, claims from hailstorms that damaged 450,000 vehicles last summer wiped out any chance of returning to a profit for the industry.
On average, German car insurers spent 104 cents for every euro in premiums on claims and costs last year, according to data from the GDV industry lobby group. In 2012, the so-called combined ratio was 102.6 percent.
Growing Network
Allianz offers carmakers a commission to sell its auto insurance under their brand, giving it an edge on the local competition. "Margins are similar to those in traditional insurance," Crede said. "Adding more coverage to our product packages, such as higher margin warranty coverage and assistance products, will help us improve margins further."
The insurer, based in Munich, targets a combined ratio at its global automotive unit of below 98 percent, a goal set in 2010. That compares with 99.7 percent in 2013.
While the unit's biggest markets are Germany and Australia, growth markets are a "very important part of the business," Crede said. "There is potential for more by adding more countries to existing partnerships with car manufacturers and adding new ones to the partner network."
Allianz teamed up with Ford in Europe at the end of 2013. Its partners also include Volkswagen as well as Daimler AG and BMW on an international level. Sales through dealerships now represent more than 5 million of the 50 million vehicles insured by Allianz worldwide.
U.S. Next?
Partnerships with carmakers vary from country to country. In Germany, BMW is selling motor insurance for Ergo Versicherungsgruppe, Munich Re's primary insurance unit, while Daimler partners with HDI Versicherung, a unit of Talanx AG. Zurich Insurance Group AG's German unit sells coverage through a joint venture with Germany's ADAC automobile club.
Typically, contracts with carmakers run for five to eight years, and Crede said he expects existing partners will renew the relationship. "Since we were able to boost business on all partnerships, I would expect our existing relationships to be more than just a one-time endeavor."
Allianz's German unit increased premium income from car insurance by 3 percent to 3.3 billion euros last year. Allianz insured 8.1 million vehicles in Germany in 2013, while HUK-Coburg insured about 9.8 million.
Allianz's automotive unit is part of the insurer's global business lines, which include trade-credit insurer Euler Hermes SA, of which Allianz holds 68 percent, travel insurer Mondial Assistance, the Allianz Global Corporate and Specialty industrial-insurance unit and the Allianz Asset Management unit, which owns Newport Beach, California-based Pacific Investment Management Co.
"The U.S. is still uncovered territory for us, but it's also a more difficult market as car dealers are legally not allowed to sell insurance and as every state has a different legislation," Crede said. "Nevertheless, I could imagine that we give it a try at some point."