U.S. Mulls Ukraine With EU as Putin Warns on Intervention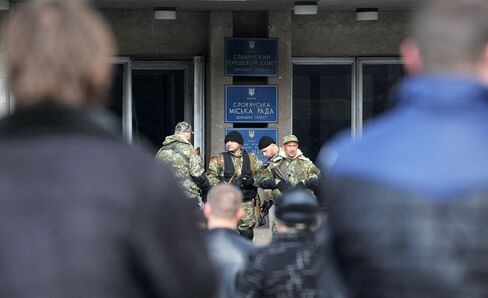 The U.S. and European Union deliberated deepening sanctions against Russia for stoking unrest in eastern Ukraine, while President Vladimir Putin said he's being called on to intervene in the former Soviet republic.
The Kiev-based government started an "anti-terrorist" operation in the eastern Donetsk region after fighting between its forces and pro-Russian separatists who seized police and security buildings there turned deadly this week. It came as U.S. President Barack Obama and Putin remained at odds about who was at fault for the crisis in an overnight phone call.
The U.S. and EU states blame Russia for stirring turmoil in their worst standoff since the Cold War. Russia, which the NATO says has 40,000 troops massed on Ukraine's border, denies involvement and says the Kiev-based government isn't protecting Russian-speaking citizens. It wants Ukraine to give more power to its provinces in what Ukrainians fear may let Russia carve off more of the country after it annexed Crimea last month.
Obama "expressed grave concern about Russian government support for the actions of armed, pro-Russian separatists" and urged Putin to get them to withdraw from facilities they seized, according to a White House statement. Putin told Obama he should "use the American side's capabilities to prevent the use of force and bloodshed as much as possible," according to the statement from the Russian president's office.
Turmoil's Toll
The turmoil and sanctions have hit Russian and Ukrainian markets. The ruble has lost 8.6 percent against the dollar this year, the seventh-worst performer in the more than 170 currencies tracked by Bloomberg. The benchmark Micex stock index was 0.8 percent higher at 11:09 a.m. in Moscow. It's down more than 10 percent this year.
The central bank in Kiev raised its benchmark interest rate to 9.5 percent from 6.5 percent last night, according to a statement on its website, to halt a 33 percent plunge this year in the hryvnia, the world's worst-performing currency. Ukraine is facing its third recession since 2008 and dwindling reserves.
At least one Ukrainian serviceman died over the weekend after a gun battle with armed separatists in the town of Slovyansk. Ukraine's acting President Oleksandr Turchynov accused Russia of sending special forces to seize buildings in the country's east, where activists occupied police stations in the cities of Horlivka, Kramatorsk, Donetsk and Mariupol.
Readying Sanctions
The U.S. and Russia plan to proceed with four-party talks in Geneva with EU and Ukrainian officials in two days, even as the EU and the U.S. are considering widening sanctions against Russian individuals and possibly companies.
EU ministers meeting in Luxembourg yesterday decided to put more names on a list of people to be sanctioned, adding to the 51 Russian and Ukrainian political figures blacklisted following Russia's annexation of Crimea from Ukraine last month. The EU added four Ukrainians to the list including former deputy Prime Minister Serhiy Arbuzov.
"We are ready to play our part," in "cooperation with other nations making their own sacrifices," U.K. Foreign Secretary William Hague said today. Russia is "absolutely complicit" in escalating tensions in Ukraine, he said, adding that EU states will recognize when that had reached a level to trigger a third tier of economic, trade and financial sanctions.
While coordinating with the EU, the Obama administration hasn't ruled out unilateral sanctions that would more directly target sectors of the Russian economy, including energy, financial services, metals and mining, engineering and defense.
Wider Implications
"We're assessing what they've done," White House press secretary Jay Carney told reporters in Washington, while declining to say whether the latest upheaval in eastern Ukraine would trigger additional penalties.
A broader set of economic sanctions against Russia would have a greater impact on European economies than the U.S. Germany, Europe's largest, had $89 billion in trade with Russia in 2012. By comparison, commerce between Russia and the U.S. amounted to about $38 billion in 2013.
Europe also depends on energy from the east, with gas from Russia accounting for 30 percent and oil for about 35 percent of EU imports in 2011, according to EU data.
Obama told Putin yesterday the conflict still can be resolved diplomatically, though any talks "cannot succeed in an environment of Russian military intimidation on Ukraine's borders, armed provocation within Ukraine, and escalatory rhetoric by Kremlin officials," according to the White House.
The Russian president "is getting many requests from eastern Ukraine ''to intervene in one way or another,'' his spokesman, Dmitry Peskov, told reporters yesterday.
Russian Intervention?
Ukraine must stop quashing protests and to hold a referendum on devolving power to regions, Russian Foreign Minister Sergei Lavrov was quoted as saying by RIA newswire in Beijing today.
His comments are in line with what the U.S. has called a ''propaganda campaign'' that accuses the U.S. and its allies of supporting ''neo-Nazis'' who are attacking Russian speakers in eastern Ukraine, a charge the U.S. and the government in Kiev say is groundless.
''You can't send tanks against your public and at the same time be calling for negotiations,'' Lavrov was quoted as saying.
Pro-Russian Ukrainian presidential candidate Oleg Tsarev was attacked by pro-Kiev activists in the capital yesterday after they found weapons and a military uniform in his car, Hromadske TV reported.
Following the start of an ''anti-terrorist operation'' near Slovyansk this week, Turchynov said another began last night in the northern Donetsk region near the Russian border.
UN Peace keepers
He sought to ease tensions yesterday by raising the possibility of holding a referendum on the structure of the state along with presidential elections set for May 25, Interfax reported yesterday. He said he's sure people will opt for a united, independent Ukraine.
He told United Nations Secretary-General Ban Ki-moon that Ukraine would welcome UN peace keepers to help restore order, according to a statement on the parliamentary website.
Lavrov said bringing in peace keepers was inappropriate and would amount to asking ''the United Nations to take part in illegal activities,'' he was quoted as saying by RIA.
Carney, the White House spokesman, confirmed yesterday that CIA Director John Brennan was in Kiev over the weekend. The Obama administration had previously refused to confirm Russian statements that the head of the Central Intelligence Agency had met with officials of Ukraine's interim government. Underlining the tension, two unarmed Russian SU-24 Fencer aircraft flew as many as 12 passes over 90 minutes near the USS Donald Cook in the Black Sea on April 12, Colonel Steve Warren, a Pentagon spokesman, told reporters yesterday.
The destroyer was never in any danger, according to Warren, who called the flights acts ''of unprofessionalism'' by the Russians. The ship, equipped with the advanced Aegis air-defense system, wasn't in exercises at the time, he said.
Before it's here, it's on the Bloomberg Terminal.
LEARN MORE