Squeeze on Britons Starts to Ease as Wages Recover: U.K. Credit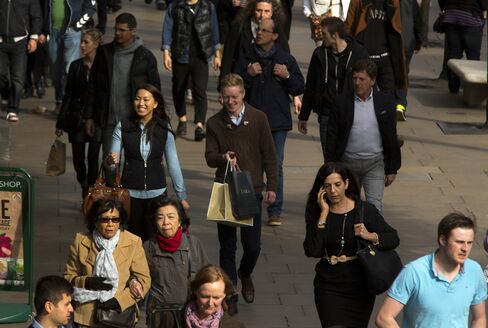 A five-year squeeze on living standards is coming to an end, providing a boost for Prime Minister David Cameron as he battles opposition claims that ordinary Britons are facing a "cost of living crisis."
Data today showed average wage increases accelerated to 1.7 percent in the three months through February, matching the annual rate of inflation for the same month. In March, consumer price growth slowed to 1.6 percent, indicating Britons may be poised for their first real income growth since the financial crisis struck.
The pickup comes as Cameron and opposition Labour Party leader Ed Miliband prepare for local and European Parliament elections on May 22 and a general election next year. Rising personal incomes are forecast to underpin a recovery that has led several economists to predict the Bank of England will increase borrowing costs as early as the fourth quarter.
"A purely 'cost of living' narrative is vulnerable," Mark Wickham-Jones, professor of politics at Bristol University, said in an interview. "Labour has struggled on its wider economic narrative since 2010. It might need to recast its messaging."
Political Ammunition
Gilts have fallen as the economy has improved, widening the yield premium investors demand to hold U.K. securities versus equivalent German debt, Europe's benchmark.
The Conservatives and their junior coalition partners, the Liberal Democrats, are seeking to use the strengthening recovery to gain a political advantage.
"As pressure on living standards is eased, I wonder what is left for the Labour Party?" Liberal Democrat leader and deputy prime minister Nick Clegg said at an April 14 press conference. "If this latest suggestion from the Labour Party that somehow living standards will never recover again also proves to be wrong, what on earth does the Labour Party have to say on the most central issue of the day -- namely how we manage our economy come May of next year."
In a speech in Washington on April 11, Chancellor of the Exchequer George Osborne highlighted the momentum that led the International Monetary Fund to predict last week that Britain will grow faster than any other Group of Seven nation this year.
"When the economy shrinks people get poorer, and the only way to ensure people are better off is for the economy to grow," he said.
Poll Lead
Miliband has argued households are still under pressure and Ed Balls, who speaks for Labour on financial matters, wrote two days ago in the Guardian newspaper that "millions of people are not feeling any recovery in their own lives and standard of living" and "it will require a huge turnaround to make people better off compared with 2010."
Britain's biggest operator of food banks, The Trussell Trust, said today that the number of people it helped rose 163 percent last year, as people on low incomes and welfare benefits suffered under the government's austerity program.
Labour's lead over the Tories in opinion polls widened to 5 points since March, according to a Guardian/ICM survey, while 82 percent of people told an Ipsos MORI poll this month they agreed there's a "cost of living crisis."
Opposition strategists accept the party's message on the cost of living needs to be broadened to focus on the argument that some parts of the country and some households will continue to struggle even as the economy improves.
Consumer Squeeze
"At the next election, the answer to Ronald Reagan's famous question -- are you better off than you were four years ago? -- looks set to be a resounding 'No'," Catherine McKinnell, a Labour lawmaker who speaks on economic affairs, said in an e-mailed response to questions. "It will prove to be deeply out of touch if ministers use one set of statistics to claim the cost-of-living crisis is over. There is a huge amount of ground to catch up."
The squeeze on British households has seen real incomes fall to their lowest in a decade, according to the Institute for Fiscal Studies. As food and energy costs soared, workers accepted pay cuts as the price for keeping their jobs amid the recession.
The Office for Budget Responsibility, which oversees forecasting for the Treasury, predicts that real average earnings won't return to the level seen when Cameron took office in 2010 for another five years. Average annual pay in Britain is about 25,000 pounds ($42,000), based on Office for National Statistics data.
Spending Boost
Today's ONS data showed that wage growth accelerated from 1.4 percent in the quarter through January. Excluding bonuses, annual pay growth was 1.4 percent in the three months through February, up from 1.2 percent.
Rising real incomes may help support consumer spending and boost the economy, which is forecast by the IMF to expand 2.9 percent this year, the most since 2007. Seven of 48 economists in a Bloomberg survey published on April 14 expect the BOE to begin raising the benchmark rate from a record-low 0.5 percent in the fourth quarter of this year.
The yield on the 10-year government bond rose five basis points to 2.65 percent at 9:45 a.m. London time, up from about 1.70 percent a year ago. The premium investors charge to hold the debt instead of German bunds widened to 115 basis points.
Today's figures also showed Britain's unemployment rate fell below the 7 percent threshold that Bank of England Governor Mark Carney set under the first stage of his forward-guidance policy. The jobless rate measured by International Labour Organization methods slid to 6.9 percent in the three months through February from 7.2 percent in the quarter through January.
Samuel Tombs, an economist at Capital Economics Ltd. in London, said the pay data offer fodder for both parties.
"Tories may be able to claim real pay is finally rising, while conversely, Labour will be keen to point out that the level of real pay is still down on its pre-recession peak," he said. "It's still likely to be a hot topic of debate."