Spider-Infested Mine to Reopen as Saracen Chases Gold Rush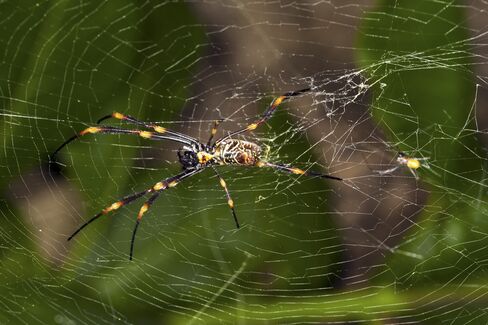 As bullion gains this year after the biggest annual plunge in more than three decades, there's little that's stopping some producers reopening shuttered mines or reviving stalled projects - not even a plague of spiders.
For Saracen Mineral Holdings Ltd., which agreed in January to buy OAO GMK Norilsk Nickel's mothballed Thunderbox mines in Australia, the Golden Orb weaving spiders are the first challenge before production can resume next year. While they can trap and eat small birds or bats, human bites are rare and may only occasionally cause nausea and dizziness.
"They are very large spiders, not poisonous, but scary looking things," said Saracen Chief Executive Officer Raleigh Finlayson. "There would have to be 2,000 spiders crawling all over the plant."
In Romania, Gabriel Resources Ltd. is urging the country's government to issue permits to allow mining to resume at Rosia Montana, a deposit first worked by the Romans in the 2nd Century and halted in 2006, while New Talisman Gold Mines Ltd. is seeking funds to return New Zealand's Talisman to production, a site first mined in the 1880s and closed in 1992.
Miners are betting surging demand in China and India, the two biggest buyers, will underwrite planned production restarts. Barrick Gold Corp., the world's largest producer, last month forecast prices may retest previous highs and rise toward $2,000 an ounce within two or three years.
Investor Concern
Gold climbed 6.9 percent in the first quarter, as investors' mounting concern about the pace of economic growth revived interest in bullion as an alternative asset. The metal tumbled 28 percent last year, forcing producers to book at least $30 billion in writedowns and making it harder to raise funding. It traded at $1,298.82 at 3:46 p.m. in Sydney.
"If you've a good asset and a management team who've done this before, it's a good time to be looking at bringing it to production," said Patrick Chang, a Perth-based analyst at Argonaut Securities Ltd. "Though you have to remain cautious over the gold price."
Gold producers raised $1.4 billion in share sales in the first three months of this year, compared with $850 million in the same period a year earlier, according to data compiled by Bloomberg, while explorers with plans to develop new mines also are winning interest from potential investors.
"We are actually coming to the market at the right time, as there's a reduction in some of the producing assets," said Mark Connelly, chief executive officer of Perth-based Papillon Resources Ltd., which will seek funding in coming months for its $292 million Fekola project in Mali.
Bank Talks
Papillon has held talks with banks including BNP Paribas SA and Societe Generale SA, according to Connelly. QKR Corp., which in February agreed to buy a Namibian mine from AngloGold Ashanti Ltd. for $110 million, is among private equity funds to have discussed the project, he said. QKR is a mining investor founded by former JPMorgan Chase & Co. banker Lloyd Pengilly.
BNP Paribas "discusses and provides financing for a large range of resources companies in Australia," spokesman Guy McKanna said in an e-mail, declining to discuss Papillon's specific project. QKR spokesman David Simonson and Societe Generale spokesman Murray Parker declined to comment.
To be sure, production remains halted at mines from Focus Minerals Ltd.'s Laverton and Coolgardie in Australia to Goldplat Plc's Kilimapesa in Kenya, while banks including Morgan Stanley and Goldman Sachs Group Inc. aren't convinced gold's rally will last.
After completing a A$61.2 million ($57 million) equity raising last month, Saracen's Finlayson says production at Thunderbox may be brought forward to June 2015 from December that year.
"On Jan. 1 it was almost as if a switch had been flicked," he said in an interview in Perth. "The gold price changed and sentiment changed a lot."