Moelis Jumps in Trading Debut After Scaled-Back IPO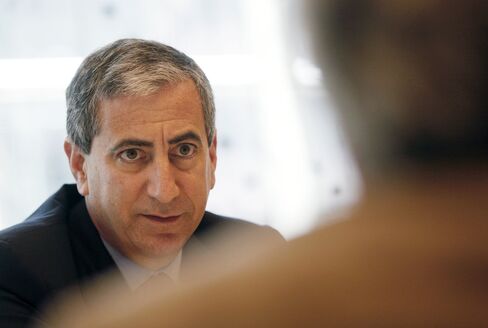 April 16 (Bloomberg) -- Moelis & Co. climbed in its trading debut after raising less than planned in the first U.S. initial public offering of an investment bank since the financial crisis.
The shares rose 4.6 percent to $26.15 in New York after pricing at $25. Moelis raised $163 million in the offering, which was structured to let Chief Executive Officer Ken Moelis retain control while still receiving a payout.
Moelis, who founded the firm seven years ago, is testing investors' appetite for new investment-banking shares for the first time in the U.S. since FBR & Co. went public in 2007, according to data compiled by Bloomberg. He's selling stock amid the strongest start to a year for mergers and acquisitions since 2007, the data show.
"The cycle is good for M&A," Moelis, 55, said today in an interview on Bloomberg TV. "There's more growth in the future than in the past."
His firm worked on deals including the takeover of HJ Heinz Co. by a group including Warren Buffett's Berkshire Hathaway Inc. Since New York-based Moelis announced its IPO plans on April 4, shares of competitors have dropped, with Evercore Partners Inc. tumbling 8.1 percent through yesterday and Greenhill & Co. sliding 4.3 percent.
Moelis pared the size of its offering to 6.5 million shares from 7.3 million and dropped the price below the offering range of $26 to $29.
'Market Weakness'
The pricing is "probably more of a reflection of the market weakness than a commentary on the business," Peter Nesvold, a managing director at merger-advisory firm Silver Lane Advisors LLC in New York, said before the trading debut. "Since they set the range, the closest peers are down."
Ken Moelis, who also has advised Carl Icahn, Donald Trump and Steve Wynn, is joining the ranks of dealmakers who have harvested the rewards of setting up their own businesses. At the offering price, his stock was valued at about $332 million, with an additional $87 million in trust for his family, data compiled by Bloomberg show.
Moelis & Co. planned to use 80 percent of the proceeds for one-time payments to the founder and his partners, filings show. The rest will be invested in the firm.
The investment bank estimated last week that first-quarter revenue almost doubled to about $114 million from the same period a year earlier. The company should continue to grow this year, Moelis said in the television interview.
"Based on our first quarter, I'd be disappointed if we don't," he said.
Merger Advisers
While his firm ranked 12th among merger advisers in 2013 -- its highest-ever position -- it has slipped to 24th this year, according to data compiled by Bloomberg. The company's largest deal this year was TIAA-CREF's $6.25 billion purchase of Nuveen Investments, the data show.
"You should expect the earnings to be very volatile," Erik Gordon, a professor at the University of Michigan's Ross School of Business, said before the IPO. "Deals are subject to macroeconomic swings."
Goldman Sachs Group Inc. and Morgan Stanley managed the offering. Moelis's shares are listed on the New York Stock Exchange under the symbol MC.
To contact the reporters on this story: Leslie Picker in New York at lpicker2@bloomberg.net; Zeke Faux in New York at zfaux@bloomberg.net
To contact the editors responsible for this story: Peter Eichenbaum at peichenbaum@bloomberg.net; Mohammed Hadi at mhadi1@bloomberg.net