Gazprom Leads Russian ADR Rout as Sanction Concern Mounts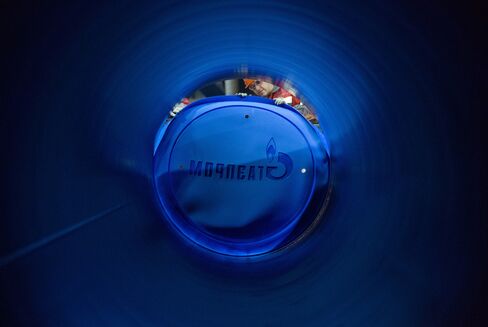 April 15 (Bloomberg) -- Russian equities trading in New York fell for a third day, the longest slide in a month, as clashes in eastern Ukraine added to speculation that the U.S. and Europe will step up economic sanctions against the Kremlin.
The Bloomberg index of the biggest Russian companies listed in the U.S. declined 1.6 percent yesterday, extending this year's plunge to 21 percent. American depositary receipts of OAO Gazprom, the nation's gas export monopoly, sank 4 percent after the benchmark Micex Index, which entered a bear market on March 13, dropped to a two-week low in Moscow.
The selloff is deepening as European Union leaders move toward imposing a third round of sanctions against Russia, saying President Vladimir Putin's government is stoking the latest unrest in Ukraine. The U.S. is also prepared to implement more sanctions, Treasury Secretary Jacob J. Lew said yesterday. Russian Foreign Minister Sergei Lavrov denied his nation is involved in the protests across the border.
"It's uncertainty and fear of further sanctions that's driving the sellers," Tim Wiswell, the head of Russian equity sales and trading at Deutsche Bank AG in Moscow, said by phone yesterday. "There's concern they could harm the economy. We're in an unknown territory; no one really knows what's going to happen next."
OAO Sberbank, Russia's biggest lender, fell 2.7 percent to $8.74 yesterday as trading volume exceeded the daily average for the past three months more than fivefold, data compiled by Bloomberg show. OAO Lukoil, the nation's second-largest oil producer, dropped 3.1 percent to $51.81, extending this year's loss to 18 percent.
Ukrainian Casualty
At least one Ukrainian serviceman died over the weekend and armed separatists are occupying police and government buildings in cities across the east of Ukraine. NATO estimates that Russia has massed 40,000 troops in combat readiness on Ukraine's border.
As part of its response to the Crimea annexation, the U.S. has enacted economic sanctions targeting Russian officials, businessmen and a bank. The EU has previously blacklisted 51 Russian and Ukrainian political and military figures.
The Micex, already the cheapest gauge among 21 developing countries monitored by Bloomberg, has suffered a more than $110 billion collapse in market capitalization this year. It trades at 4.5 times estimated earnings, compared with a valuation of 10 for the MSCI Emerging Markets Index.
'No Confidence'
"People find Russia uninvestable," Colin Bell, vice president of emerging markets for Auerbach Grayson Co. in New York, said by phone yesterday. "There is no confidence in Russian institutions, there is no predictability in Russian policies, and if the confrontation with Ukraine escalates, the market will decline further. We are yet at the start of this little political experiment by Mr. Putin."
The Micex Index retreated 0.3 percent to 1,340.30 by 10:01 a.m. today in Moscow. The Market Vectors Russia ETF slumped 3.2 percent to $22.74 yesterday. Gazprom fell 31 cents to $7.24, the lowest since March 3. Futures on the company's stock listed in Moscow dropped 0.7 percent in U.S. hours yesterday.
The RTS Volatility Index, which measures expected swings in futures, increased 4.4 percent to 41.17 in U.S. trading hours. RTS stock-index futures expiring in June fell 0.8 percent to 113,960.
To contact the reporters on this story: Halia Pavliva in New York at hpavliva@bloomberg.net; Ksenia Galouchko in Moscow at kgalouchko1@bloomberg.net
To contact the editors responsible for this story: Nikolaj Gammeltoft at ngammeltoft@bloomberg.net Alex Nicholson