CapitaMalls Shares Jump on S$3.06 Billion Offer: Singapore Mover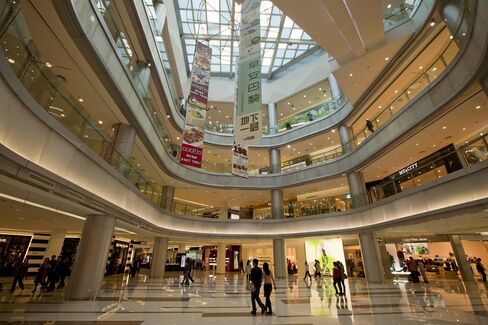 CapitaMalls Asia, Singapore's largest mall operator, had the biggest gain since going public in 2009 after CapitaLand Ltd. offered to buy the rest of its mall unit to consolidate some businesses and boost returns.
CapitaMalls Asia surged 21 percent to S$2.19, the largest advance since November 2009 at the close of trading. CapitaLand, Southeast Asia's biggest developer, jumped 6.5 percent to S$3.11. The developer bid about S$3.06 billion ($2.4 billion), or S$2.22 a share for CapitaMalls Asia, a 23 percent premium to the closing price on April 11. Trading resumed today after shares of both companies were halted before the announcement.
"CapitaLand's offer to take CapitaMalls private is a win-win for both CMA and CapitaLand," said Tricia Song, Singapore-based analyst at Barclays Plc. "Regaining full control of CapitaMalls should allow CapitaLand more flexibility, including the ability to streamline its organizational structure."
CapitaLand, which owns 65.3 percent of CapitaMalls Asia -- whose Singapore malls include ION Orchard and Plaza Singapura along the city's famed Orchard Road shopping strip -- sold shares in the unit in 2009, raising S$2.8 billion. The latest deal will help CapitaLand's increased emphasis on mixed-use developments, those that include residential, commercial and retail projects, according to Standard Chartered Plc.
Different Market
Taking the unit private would raise the earnings per share of CapitaLand Group by about 22 percent for the year ended Dec. 31, and improve the return on equity of the group to 6.7 percent from 5.4 percent for the same period, the developer said yesterday in a statement.
"The market has changed," CapitaLand President Lim Ming Yan said at a press conference in Singapore yesterday. "Earlier companies were pure play residential, now companies are emerging that are doing mixed developments, which include homes, offices and malls. This move will help us compete better."
Such projects include Project Jewel, a new development at Singapore's Changi airport where a parking lot is being turned into a shopping mall and hotel, and the Atrium@Orchard, which has retail and office space along Orchard Road.
CapitaMalls Asia owned 105 shopping malls valued at S$34.3 billion as of Dec. 31, the company said in a presentation in March. The mall owner reported a 17 percent increase in fourth-quarter profit to S$216.4 million from a year earlier. CapitaMalls Asia holds S$1 billion in cash with a net gearing of 22 percent, according to a Feb. 14 report from OCBC Investment Research.
Earnings Growth
Singapore malls contributed 55 percent to its profit for the year ended Dec. 31 at S$405 million, followed by China, where its malls helped add S$262 million, or 35 percent of the company's profit, CapitaMalls said. Malls in Singapore and China accounted for 86 percent of the company's assets.
CapitaLand in February said fourth-quarter profit fell 46 percent after it recorded a loss on the sale of a stake in Australand Property Group and lower revenue from its Singapore home sales. Net income declined to S$142.9 million in the three months ended Dec. 31, from S$262.7 million a year earlier.
The transaction shows that CapitaLand couldn't put the money to better use at a time when property markets in Singapore and China are starting to show some weakening, according to Samsung Asset Management Co.
'Financial Engineering'
Singapore's home sales dropped to the lowest this year in March as loan curbs crimped demand from homebuyers, a government report showed today. Chinese developers will probably face more challenges this year because of an oversupply of housing in smaller cities, according to a Bloomberg News survey.
"The company is effectively undertaking financial engineering to enhance returns," Alan Richardson, an investment manager at Samsung Asset in Hong Kong, said in an e-mail. "The problem is these returns are still unsatisfactory relative to the cost of equity and suggests a lack of investment opportunities in an adverse environment of declining property prices in Singapore and slowing growth opportunities in China."
CapitaLand's offer works out to be about 1.2 times CapitaMalls Asia's book value, which is cheaper than the 1.5 times book value when it listed in 2009, according to brokerage UOB Kay Hian Pte.
The offer is being managed by Credit Suisse Group AG and Morgan Stanley, according to the statement.
Before it's here, it's on the Bloomberg Terminal.
LEARN MORE