The Mediterranean Loses Its Monopoly on Elite Olive Oil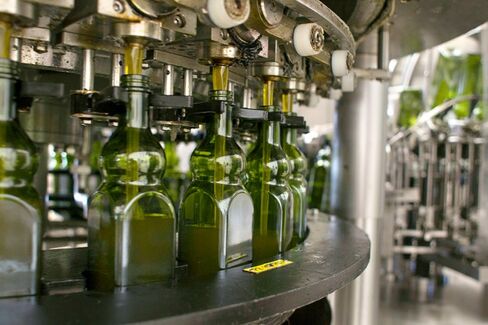 "You can make really great olive oil anywhere," said Dan Flynn, an olive expert and director of the University of California-Davis Olive Center, "and you can make really crappy olive oil anywhere." He was in New York City last week—hardly olive country—for the second annual International Olive Oil Competition. I had the good luck to sit next to him during the awards presentation, where 19 Best in Class honors were bestowed on oils from eight countries. Many more gold and silver awards went to products from a longer list of locations.
No doubt Spain and Italy would come out ahead, I thought before the awards were announced, maybe even Greece. Little more went into that assessment than the occasional visit to the olive oil section in Whole Foods Markets. You can know nothing about olive oil and guess correctly, thanks to popular, lower-priced, and lower-quality supermarket brands such as Bertolli, Colavita, and Goya. But then producers from Chile, Peru, Slovenia, and Australia also took home the same Best in Class prizes as the Mediterranean favorites. Surprising? Not really.
How the oil is made is much more important than where. "The best quality oils tend to come from the early to midseason harvest, where the fruit goes from tree to crusher within hours," Flynn told me. "Extra virgin olive oil is made like apple cider—the miller crushes fruit and extracts juice. So freshness is critical to the oil quality." Olives also tend to thrive in the same areas as vineyards. Many of the regions around the world that make very good wine—such countries as Chile and Australia—also produce high-quality olive oil.
One of the places getting more recognition is California. Several of the awardees in this year's IOOC were producers from that state, which Flynn and other experts at the event say is producing "exceptional" olive oils.
Curtis Cord, the publisher of the trade publication Olive Oil Times, founded the competition in 2013, with support from Fairway Market, one of the event sponsors, and the International Culinary Center, as well as other olive oil experts. He wanted to create a more truly global, open, and fair competition, as Cord explained in an interview with the Gourmet Retailer. New York was picked as the venue because it's neutral ground for olives. As Cord announced this year's prizewinners, in fact, he noted that the closest olive oil producing region to Manhattan is in Georgia (the U.S. state, not the country).
This year's event featured more than 600 olive oils from around the world. The event, says Maria Reyes, a distributor in Chicago, is helping consumers and businesses learn more about high-quality extra virgin olive oil. "When people try good, premium, fresh olive oil, it's hard to go back to other oils."
Before it's here, it's on the Bloomberg Terminal.
LEARN MORE