One Question: Duke, Cornell, and UNC MBAs Take on Classroom Diversity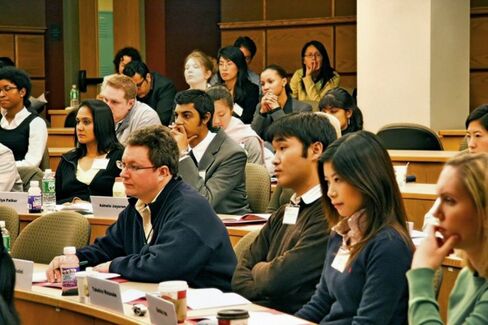 This post is the first in a series in which we ask MBA students from all over the world one question, to get at what the next generation of business leaders is thinking. This week we asked: Does the curriculum at your business school expose you to a diverse array of leaders and other professionals? (Diversity could mean gender, ethnicity, class, or other characteristics.) What would you like to see more of?
"As a gay man, I would like to see some more LGBT alums/faculty discuss and/or address issues of gender and sexuality in the workplace, whether it is part of academic case studies, guest lecturers, or career-related events. While there is a diverse array of personalities [in B-school], a majority of [people] live in the MBA/academic bubble, especially faculty. It would be nice to get outside perspective from time to time. I don't think these are critiques that would be unique to Cornell Johnson, though, as I have heard exactly the same feedback from friends at other top programs, such a Chicago Booth, HBS, NYU Stern, and Stanford." — Arnab Mukherjee, Johnson Graduate School of Management, Cornell University

"Our curriculum could do a better job of showing diversity in business through cases. However, I'm sure they are limited by what's available. We already know the vast majority of Fortune 500 [chief executives] are men. It would be great if they could find more female and diverse leaders to focus on." ‐ Jessica Fischburg, Kenan-Flagler Business School, University of North Carolina

"The curriculum at times brings in leaders or other professionals. However, I don't believe our curriculum is designed in a way that makes this a priority. What is important is the career office and student-run clubs inviting leaders and professionals in a number of functions to the school to speak to interested students. Within this context, I am exposed to a diverse range of leaders and professionals." — Dominic Rasini, Simon Graduate School of Business, University of Rochester

"While there is a clear focus on bringing in students and faculty with diverse ethnicity, gender, and sexuality, I think more could be done to include socioeconomic factors in the concept of diversity." — Sam Lambson, Johnson Graduate School of Management, Cornell University

"Given Fuqua's international focus, I think they show strong diversity within the curriculum in terms of global leaders and professionals. Cases, speakers, and projects usually have an international component. Gender is something that our AWIB [Association of Women in Business] club has done a great job in highlighting with a series of extracurricular events with faculty and guests. — Simon Moore-Crouch, Fuqua School of Business, Duke University
Before it's here, it's on the Bloomberg Terminal.
LEARN MORE