Nasdaq CEO Says Michael Lewis Comments on HFT 'Irresponsible'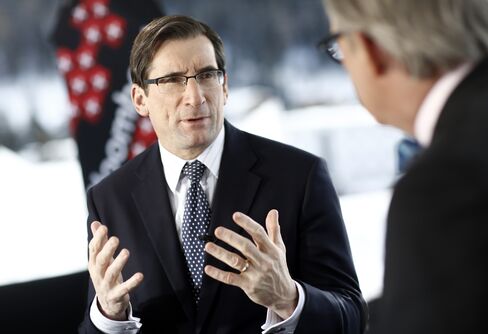 Michael Lewis's argument that the $23 trillion U.S. stock market is rigged in favor of speed traders is careless, according to Nasdaq OMX Group Inc. Chief Executive Officer Robert Greifeld.
The controversy over high-frequency trading intensified with the publication of Lewis's book "Flash Boys" on March 31. Lewis argues that the fastest trading firms prey on slower investors by getting early access to nonpublic information.
"I think that was irresponsible on his part," Greifeld said in an interview on PBS's "Charlie Rose" show. "I feel poorly for the academics. Our markets are researched more than any other market that's out there."
Greifeld said about 100 academic papers have been written about how the U.S. markets operate and a similar number have been produced on overseas markets. Academics who have spent their careers studying markets are divided on high-speed trading, he said, with some in favor of it and some opposed.
"It's not a story-telling type of issue," he said. "It's really dense academic papers to get through what happens in the marketplace."
The book and ensuing media attention have magnified concerns that have circulated for years. The Federal Bureau of Investigation already had been probing potential criminal activity associated with high-frequency trading. On April 4, U.S. Attorney General Eric Holder said the Justice Department is probing whether HFT violates insider trading laws. New York Attorney General Eric Schneiderman is also investigating.
'Data Driven'
Schneiderman, in a March 31 interview on Bloomberg Television, urged the Securities and Exchange Commission to speed up its review of HFT and quickly issue new regulations.
"Any analysis of the market has to be data-driven," Greifeld said. "I compliment the SEC on the rules they've made. The markets have always been evolving and you don't go with a 14-fold decrease in transaction costs without change," he added.
IEX Group Inc., a 5-month old dark pool that says it has the antidote to speed traders, was started by the heroes of Lewis's book. The story centers on Brad Katsuyama, president and chief executive officer of IEX, which opened in October.
"We as an exchange have to make sure we give equal access to all investors in our market place," said Greifeld. "That's our primary responsibility. In our data center we make sure that if you are 10 feet from the order match, the electronic exchange, versus 100 feet you have the exact same experience," he added. "We are fair down to really a billionth of a second."